1) Universal Folding Hide-Away TV Ceiling Mount Screens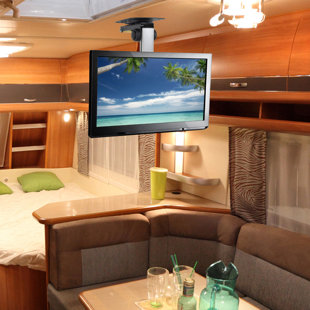 BUY NOW
The PCM tv 25 foldable tv ceiling mount was made for saving space and easy hide-away convenience when not in use. Mount virtually any tv onto flat or pitched ceilings. Made to fit VESA universal mount standards for flat panel HDTV, LCD, led, plasma, and smart TVs — from brands including Samsung, JVC, Magnavox, Panasonic, Sharp, Toshiba, Vizio and more. Add versatility to your home theater experience, mount your tv exactly where you want, and then fold it away with the PCM tv 25 fold-away tv ceiling mount.
2) Apex Large Tilt Ceiling Mount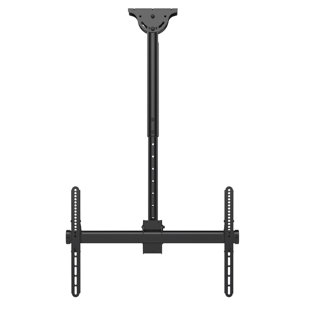 BUY NOW
Lift your viewing experience from the table to new heights with an Apex Large Tilt Ceiling. Built with quality in mind, the UC-PRO310 is a universal ceiling mount that supports most displays. The unique design of the UC-PRO310's universal mounting plate means that display compatibility is almost guaranteed. For precise compatibility, simply check your display's VESA pattern against the VESA range listed here. If your display's VESA matches or falls within the range shown, then your display is compatible. It's that easy.
3) Figueroa Tilt/Swivel Ceiling Mount LCD/Plasma/LED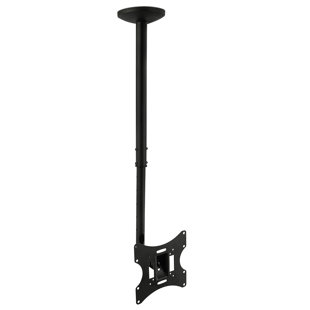 BUY NOW
Features a telescopic pole with an adjustable height drop. Comes with cable management to hide the cables between the ceiling and the TV. The decorative plate around the ceiling mount portion ensures a clean look. It also provides you with the option to easily tilt or swivel your TV, with a push of a finger to optimize your viewing angle.
4) Klinger Tilt/Swivel Ceiling Mount 13″-23″ Flat Panel Screens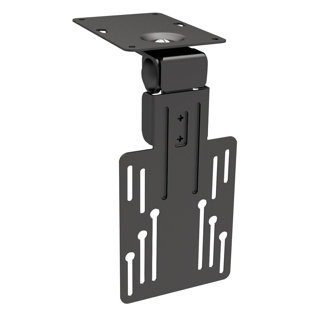 BUY NOW
Enjoy your favorite TV shows anywhere. This TV bracket allows you to mount a small flat-screen TV under a cabinet in your kitchen, workspace, child's room, garage, etc. It supports most TVs or flat panel screens. It also tilts and swivels for viewing from different angles.
5) Ferguson Tilt Ceiling Mount LCD/Plasma/LED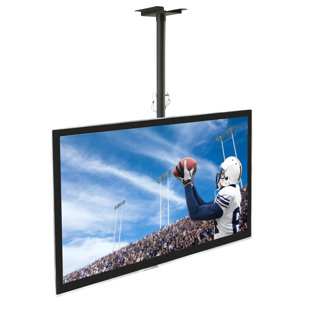 BUY NOW
Looking for a ceiling mount for your flat-screen television? It is ideal for any room or office with limited wall space. This well-engineered, premium grade of steel mount will firmly mount to your ceiling holding your precious LCD, LED flat-screen TV. This exceptional ceiling TV mount tilts up to 20 degrees, swivels 360 degrees and it extends from the ceiling to help you optimize your viewing angles from anywhere in the room. This ceiling mount fits most plasma's, LCD, LED TV's with the VESA hole pattern.
6) Double Pivot Articulating Arm/Swivel/Tilt Wall Mount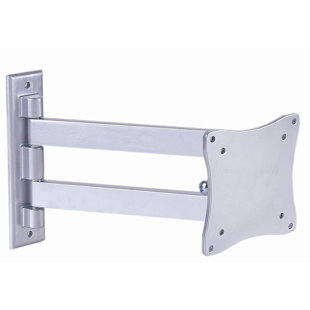 BUY NOW
This sleek flat panel, articulating TV wall mount has tilt, swivel, pan, and articulation motion. The low profile design, folds flat against the wall.
7) Hamm Fireplace TV Full Motion Pull Down Mantel Bracket Ceiling Mount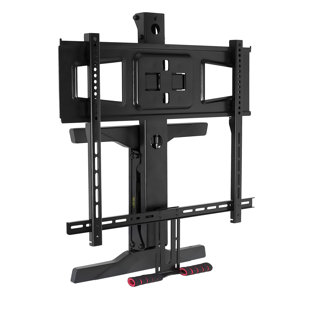 BUY NOW
Mount-It! Fireplace TV Mount, Full Motion Pull Down Mantle TV Mounting Bracket With Height Adjustment. Mount-It! TV mantel mount was designed to solve the typical problem of installing TVs on top of a fireplace – the TV is just too high when viewed from a couch. The solution to this problem is to lower the TV down for when it is viewed. Height adjustment allows the TV to be pulled down to a more comfortable viewing height.
8) Ballymeade LCD Tilt Ceiling Mount for TV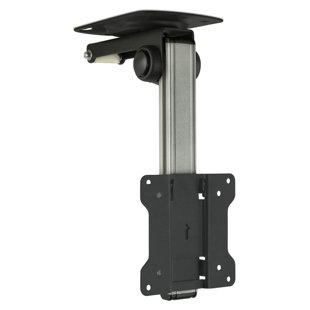 BUY NOW
Simple Stuff! ceiling mount fits most LCD TV and LED TV monitor flat panel screen displays. The sturdy mount features a space-saving design that conveniently tucks your flat panel display away when not in use. The ceiling mount comes with a locking mechanism to securely hold even the heaviest TV in place when it is folded away. How to assure mount is compatible with your selected display. Simple Stuff's TV Mounts are made with high-grade quality rugged materials. All mounting hardware included with the mount.
9) Hankins TV Ceiling Mount for Screens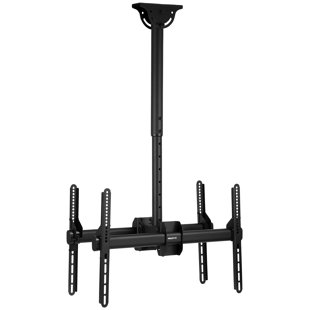 BUY NOW
The TV mount is the perfect option for mounting 2 LCD, LED, or Plasma flat screens in your home or at your business. This has a unique ceiling bracket design featuring U-shaped tracks that allow the mount to adjust 60 degrees to match the angle of vaulted or sloped ceilings.
10) Tilt Ceiling Mount for LCD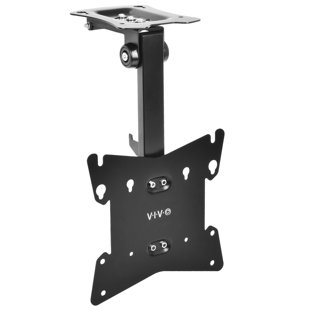 BUY NOW
The Tilt Ceiling Mount for LCD from VIVO, for LCD TV screens and monitors, is the perfect space saver that mounts to ceilings, cabinets, upper desk shelving, and more. The convenient fold-up design fits flat and pitched surfaces allowing for easy storage, cleared up space, and out-of-way safety. Load capacity is 44 pounds and is strength tested at three times this weight to ensure complete safety for your screen. Features include solid steel and aluminum construction, removable VESA plate for easy mounting, and screen height adjustment using flexible sliding rails. The modern sleek design of the mount fits well into any home or office environment. Assembly is simple and they provide the necessary hardware to get screen properly mounted.
11) Fischer Tilt Ceiling Mount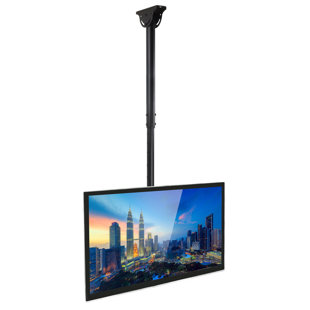 BUY NOW
The fully capable design is coupled with a high quality reinforced steel. The VESA bracket is nearly universal covering. Simply slide the VESA arms along the plate to adjust. The universal compatibility ensures that this enduring design will last throughout multiple screen upgrades or replacements so you will not ever have to buy another mount.
12) Universal Extending Black Ceiling Projector Mount / Height Adjustable Projection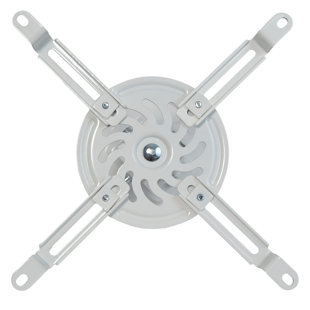 BUY NOW
Ideal for any home or office, this high-grade steel mount is weight tested at 30lbs and designed with adjustable arms to fit most projector brands with mounting. Features include 15-degree tilt, 15-degree swivel, and 360-degree rotation to maximize projection angles. Simple tightening of joints makes this as fluid or stationary as desired. This is a quick assembly and comes with common mounting hardware.
13) Heavy Duty Ceiling Mount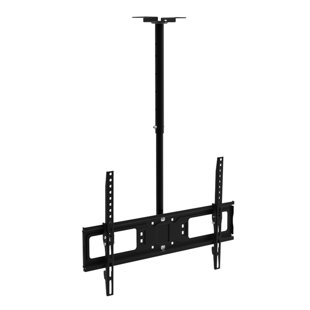 BUY NOW
Super heavy-duty TV ceiling mount that swivels 360 degrees, tilts 12 degrees. A wide mounting plate offers more secure mounting. Cords and cables may be threaded through the center of the extension pole.
14) Hanks Extra Long TV Bracket Ceiling Mount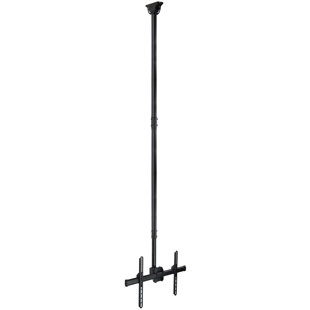 BUY NOW
Ideal for commercial installations with high ceilings, this TV mount extends 10 feet from the ceiling. The full-motion capabilities of this mount give your screen a large range of mobility for an adaptable and comfortable environment.
15) Ferreira Tilt/Swivel Ceiling Mount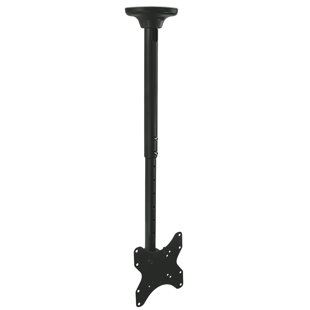 BUY NOW
Lack of wall space? Need to install your TV on the ceiling? It is an adjustable hanging ceiling TV mount is the solution to your limited wall space. This premium ceiling TV mount is designed to safely install any flat panel LED, LCD TV.
16) Nob Hill Tilt/Swivel/Articulating Arm Universal Ceiling Mount LCD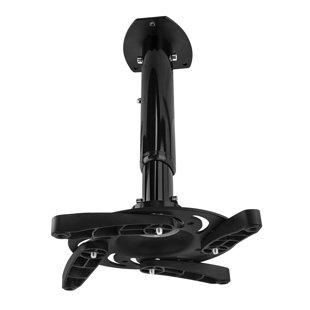 BUY NOW
Designed for small to medium-sized projectors. Complete projector ceiling mount with adjustable height. This projector mount is universal and fits a large variety of projector mounting patterns due to its clever mounting mechanism. The mount is compatible with mounting on wood, concrete or masonry ceilings. The projector ceiling mount comes in three major components, the ceiling bracket, the height-adjustable pole, and the projector mount bracket. These three components making the installation easy and secure.
17) Tilt/Swivel Ceiling Mount for Flat Panel Screens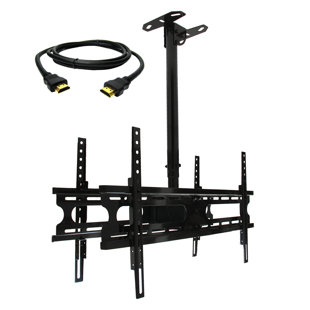 BUY NOW
Adjustable tilt and swiveling double ceiling mount fits most flat panel TV's. Saves space and offers dual viewing points. Keeps cords away from the floor.
18) Manual Fully Adjustable Ceiling Mount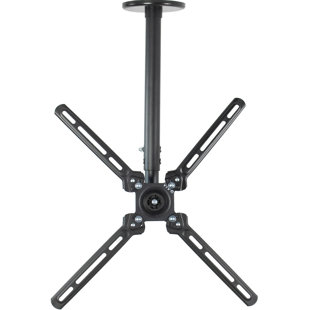 Transform your home theater or office space with this adjustable ceiling TV Mount (Mount-VC55A) from Vivo! This durable product is Compatible with most TV's on the market, making it perfect for restaurants, gyms, homes, offices, and many other places. Strength tested to support screens weighing up to 99 lbs, it will keep your valuable equipment safe and secure.
19) Touchstone Whisper Lift II Fixed Ceiling Mount Screen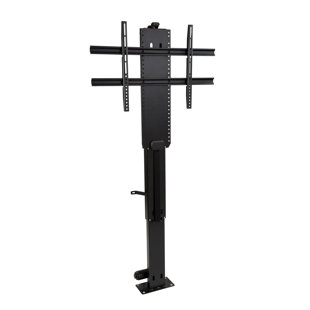 BUY NOW
The Whisper Lift II is constructed from durable steel for unmatched strength and stability and is powered by our whisper quiet 24V motor. Touchstone's Universal Quick Connect system makes it easy to install any flat screen TV in just minutes. A universal hardware kit comes with each TV lift kit which includes bolts and machine screws to accommodate most brands and models of flat-screen TVs. The Whisper Lift II features a unique mounting mechanism that fastens your flat screen TV to the Quick Connect Bracket for guaranteed safety and security. Lifts to full height in under 30 seconds.
20) Large Tilt Ceiling Mount for Flat Panel Screens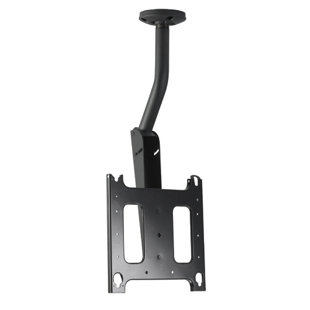 BUY NOW
This ceiling mount uses a TV's natural center of gravity to provide a stable, durable installation. Great for digital signage applications.
21) Tyger Claw AV Tilting Ceiling Mount for Flat Panel Screens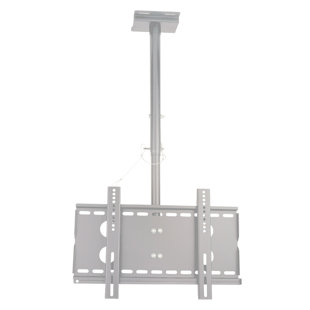 BUY NOW
Tyger Claw Tilt Ceiling mount is designed for most flat-panel TVs with tilt degree up to +15˚, swivel degree up to 360˚, and is constructed from heavy-gauge steel for total support and durability. Articulated arm allows movement of TV up to 550mm from ceiling, also an innovative locking mechanism gives quick and easy installation.
22) Dual-Sided Ceiling Mount for Screens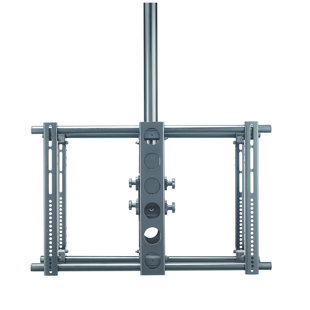 BUY NOW
This Dual-Sided Ceiling Mount for Screens full-motion mount lets you enjoy a great picture no matter where you watch. Unsightly cables stay concealed, and tool-free assembly ensures quick and easy installation. The TV can slide from side-to-side for perfect positioning on the wall, and a safety tab provides a safe and easy connection you can hear.
23) Universal Adjustable Black Ceiling Projector / Projection Mount Extending Arms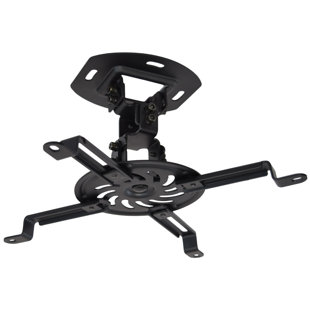 BUY NOW
Ideal for any home or office, this high-grade steel mount is designed with adjustable arms to fit most projector brands. Simple tightening of joints makes this as fluid or stationary as desired. This is a quick assembly and comes with common mounting hardware.
24) Ceiling Mount for Screens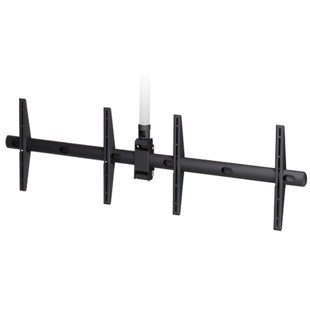 BUY NOW
The ceiling mount fits dual flat-panels up to either portrait or landscape orientation. The mount's ultra-thin design keeps the center of gravity close to the flat-panels for better balance. Integrated cable management keeps the installation clean and organized
25) Universal Pitch-Adjustable LCD Ceiling Mount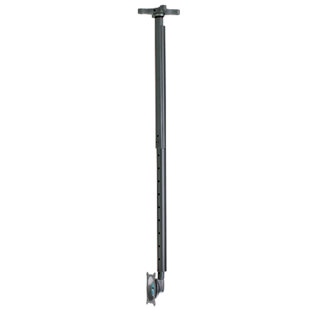 BUY NOW
The FHP is a sleek Centris mounting system designed for all VESA compliant displays. The slender column on the mount is finely finished in either black or silver and offers easy adjustment. The snap-on cable management cover fits snugly against the column, concealing any unsightly cabling.