1) Universal Wall Speaker Mount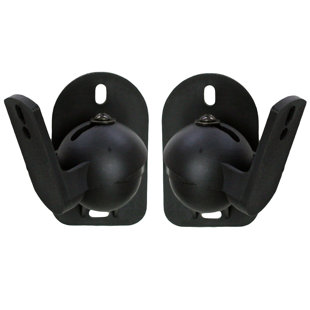 BUY NOW
This pair of VonHaus Black Universal Wall Mount Speaker Brackets are for mounting Home cinema/Satellite style speakers onto your wall. These speaker brackets are easy to install and come complete with an install kit (including screws for most speakers). The speaker brackets have a Swivel & Tilt mechanism to allow adjustment for optimum listening angle & sound direction. Speakers must have 1 single-threaded screw-hole to fit these speaker brackets. These speaker brackets can also be used for speakers with keyhole fittings, but unfortunately, the fixings are not included with the product. Speakers come in a two-pack and are coated in a tough black plastic finish.
2) Ultragrip Pro Side Clamping Wall Speaker Mount (Set of 2)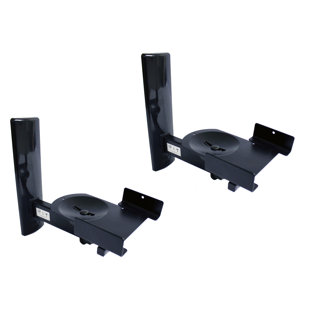 BUY NOW
You've developed a great stereo system, or maybe a surround sound system, for your home theater. Don't trust your valuable speakers to knock-offs of the original B-Tech Ultra-grip Pro Speaker Mounts. Now, to get the perfect placement of your valuable speakers, you need to mount them to the wall. Strong and durable speaker mounts are the solution. The original Ultra-grip Pro Side Clamping Speaker Mounts will hold your bookshelf speakers. safely on the wall. Mounting hardware for stud, concrete, or brick/stone walls are included.
3) Speaker Hanging Kit (Set of 2)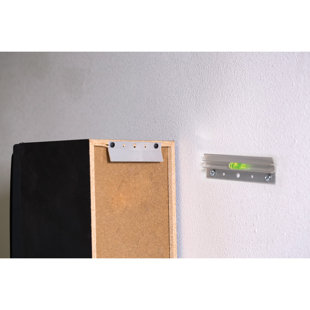 BUY NOW
The Hangman Speaker Mounting Brackets (2 pk) helps you show off your speakers, not the hardware. The kit consists of 2 pairs of Hangman interlocking aircraft-grade aluminum brackets. One bracket attaches to the back of the speaker and engages the other bracket that installs on the wall. The built-in level in the wall bracket makes for perfect installation.
4) Hurst Low-Profile Adjustable Wall Speaker Mount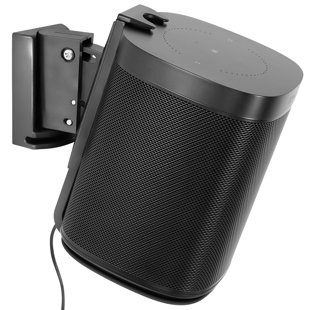 BUY NOW
Optimize your speaker and mount it to a wall anywhere in your home, office, or workspace. Designed specifically for the SONOS ONE (Generation 1 and 2), SONOS ONE SL, and SONOS PLAY:1 speakers. The low-profile, subtle design makes it look like the speaker mount isn't even there, giving your beautifully designed SONOS speaker the full attention. Create a surround sound, immersive audio experience by mounting multiple speakers throughout the room. Single stud installation ensures you can mount your speaker hassle-free, so you can start enjoying your audio in no time.
5) Dual Adjustable Universal Wall Speaker Mount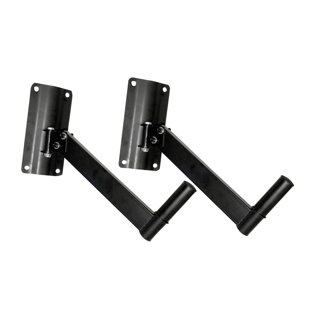 BUY NOW
Dual adjustable wall mount speakers are 180° tilt-swivel angle adjustable. It is secured with a solid-steel pin that serves as safety-stop and effectively elevates speakers for optimum sound performance. Flat wall mount speaker works with all speakers. An ideal heavy-duty audio holder for loud music, pa speakers, studio monitor with rugged, durable, and reliable metal for long-term use. Universal speaker holder is a heavy-duty reinforced solid formed steel construction. It mounts permanently and securely in most environments. Added solid-steel pin serves as safety-stop. Bracket stand holders with swivel/angle adjustment.
6) Wall Speaker Mount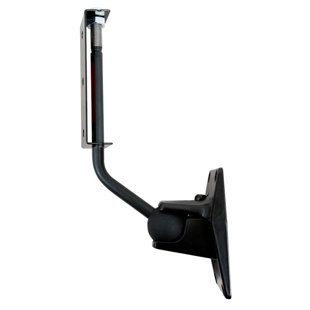 BUY NOW
Enhance your audio system with Omni Mount's stainless steel series 25.0 Wall Speaker Mount. The 25.0 W mounts to the wall and can be positioned to direct sound exactly where you want it. The stainless steel series is Omni Mount patented, top-of-the-line speaker mounting solution that combines quality, safety, durability, and ease-of-installation.
7) Garza Adjustable Satellite Universal Wall/Ceiling Speaker Mount (Set of 4)
BUY NOW
Homes change, furniture gets rearranged, offices move, and your technology must adapt. Now, even speaker mounts are adaptable for your convenience. If you want to shift your 2.1, 3.1, or 5.1 channel surround sound to accommodate a change of environment, it takes mere seconds to angle and tilt your speakers into position. Music, video games, sports, movies, and shows all have different sound outputs and require different directional flow of audio. With these mounts, you can acclimate your speakers to any setting within minutes for an optimized sound.
8) Grier Side Clamping Bookshelf Universal Wall Speaker Mount (Set of 2)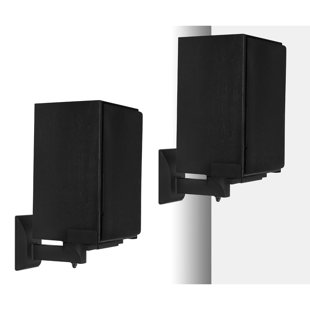 BUY NOW
Elevate your speakers for a better sound experience. These heavy-duty mounts are constructed from high-strength steel and are compatible with most speakers on the market. They are designed for medium to large bookshelf speakers, satellite speakers, studio monitors, surround sound speakers, and amplified speakers. The sliding clamp mechanism holds the speaker on each side, with additional support coming from the padded bottom for easy installation.
9) Wall Speaker Mount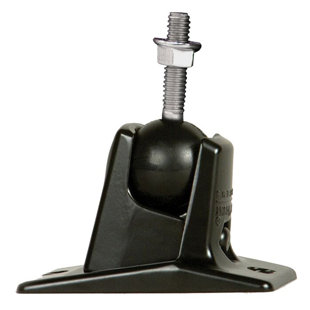 BUY NOW
Omni Mount's stainless steel series 15.0 speaker mount is a top-of-the-line solution that directs sound where you want it. Attach speakers almost anywhere on a wall. The 15.0's polymer ball fits snugly within its bracket and a small threaded shaft connects to the speaker. The ball rotates to precisely position the speaker for maximized audio distribution.
10) 2 Piece Standing Speaker Mount Set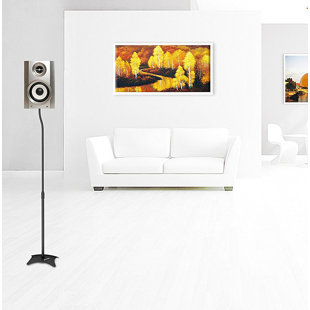 BUY NOW
Adjustable pole for placing your speakers at an optimal height for stereo or surround sound accommodates multiple speaker attachment methods including keyhole style, single bolt, or screw type. Heavy cast-iron base provides stability, even on thicker carpets.
11) Side Clamping Bookshelf Wall Speaker Mount (Set of 2)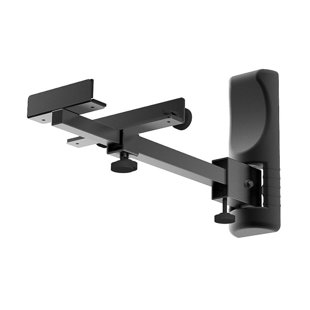 BUY NOW
Durable and stable steel. Designed for any bookshelf speakers as well as speakers without keyhole slot or thread hole inserted. 15 degree downward tilting and 40 degree left/right swiveling for optimal positioning. Neat finish with wall base cover.
12) Progrip Ultra Wall Speaker Mount (Set of 2)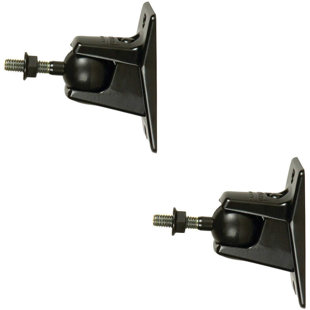 BUY NOW
ProGrip Ultra Bracket. One of the major factors in setting-up a home-theater surround system over a stereo system is how to properly phase the speakers in-line with your video output. In the theater, the screen is usually slightly above your head and the sound is aimed at the audience from above, mounting your speakers to the wall properly can help simulate this effect for a better level of surround realism. The ProGrip Ultra speaker mount is the best speaker wall mounting solution for speakers weighing. The ball can then be rotated within the bracket so the connected speaker can be moved to the desired position to maximize the audio distribution.
13) Claudette Speaker Mount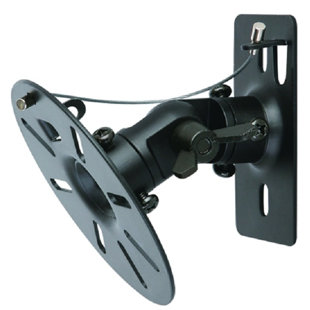 Claudette 3-Axis Dual Speaker wall mount is designed for most speakers with free tilt and rotation, and is constructed from heavy-gauge steel for total support and durability, also an innovative locking mechanism.
14) Bracket Designed Wall Speaker Mount (Set of 2)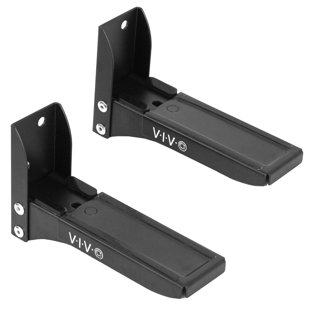 BUY NOW
Find just the right mounting solution for your speaker with Universal Soundbar Speaker Wall Mount (MOUNT-SPSB4) from VIVO! Ideal for both home and business use, these brackets mount securely to concrete surfaces, brick surfaces, and wood studs (requires additional hardware), setting your speaker from the wall surface. No assembly is required out of the box, and all the necessary hardware and instructions are provided for fast and easy installation.
15) 2 Pieces Adjustable Wall Speaker Mount Set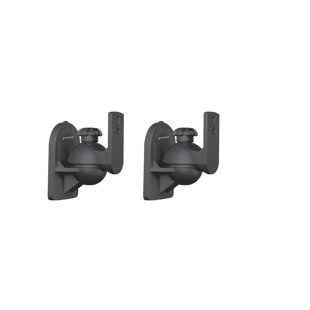 BUY NOW
Swivel and tilt mechanism allows for directional speaker aiming Fits all single point speakers. Includes easy install kit with screws. Suitable for home cinema/satellite-style speakers with single-threaded insert fittings.
16) Anti-Theft Wall/Ceiling Speaker Mount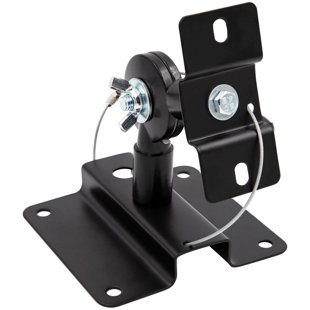 BUY NOW
This AS-SPKR-18 anti-theft speaker mount protects your audio investment by securing the speaker to the mount, which can be attached to the wall or ceiling. The mount features a 90° tilt range and 360° rotation to allow the speaker to be adjusted for optimal sound positioning. A steel security cable is included to secure the speakers to the mount. This product is ideal for use in restaurants, businesses, or homeowners looking to mount and secure speakers.
17) Wall Speaker Mount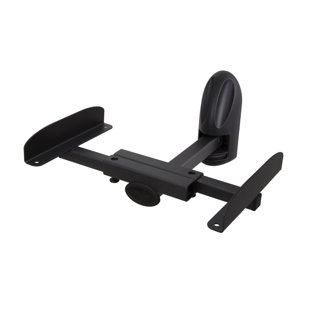 BUY NOW
This includes a set of 2 speaker mounts. Each mount features an adjustable side clamping base that accommodates speakers. Adjustments include an upward tilt of 5 degrees and a downward tilt of 15 degrees. Includes hardware for solid wall and stud-wall installation. 1 Pair of adjustable wall mounts for speakers. Tilts and turns to optimize listening.
18) Sound Bar Universal Wall Speaker Mount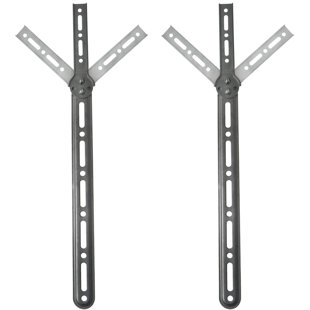 BUY NOW
This Sound Bar Universal Wall Speaker Mount is designed to easily attach most soundbars to your wall-mounted flat-screen TV.
19) Gant Surround Sound Satellite Wall/Ceiling Speaker Mount (Set of 6)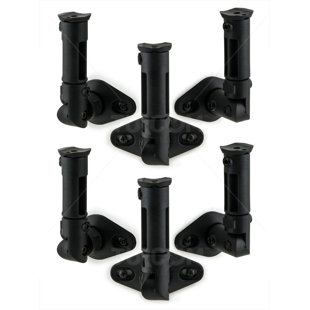 BUY NOW
Upgrade your home with this Surround Sound Satellite Wall/Ceiling Speaker Mount to a more modern and aesthetically pleasing design. The unique universal ceiling or wall mount engineering makes this a compatible product for home theaters, offices, schools, living rooms, bedrooms, etc. The easy installation process is capable of holding most small speakers on the market thanks to the one hole, two-hole, and keyhole threading.
20) Greer Heavy Duty Universal Adjustable Design Wall Speaker Mount (Set of 2)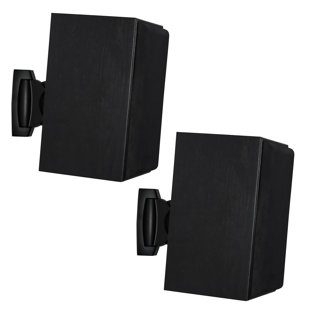 BUY NOW
Each package comes with a pair of speaker wall mounts. Each mount is made up of two bracket pieces and ABS decorative covers.
21) Above or Below TV Universal Wall Speaker Mount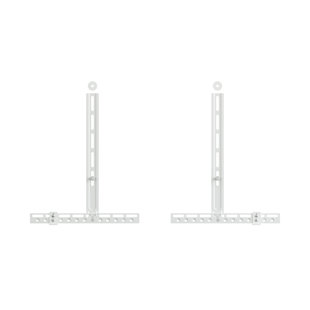 BUY NOW
A white universal soundbar mount with multiple positioning options. The soundbar mount was designed to mount directly to the back of a TV and can be used when the TV is placed on furniture or when the TV is wall mounted. When it is used with a wall-mounted TV, the soundbar moves with the pan, swivel, extend, or tilt functions of the TV mount to improve sound quality and aesthetics. The soundbar mount is universal and fits most soundbars, even if the soundbar doesn't have mounting points. Its multi-piece design allows it to work in conjunction with any TV wall mount and any VESA mounting pattern.
22) Electronic Master Speaker Mount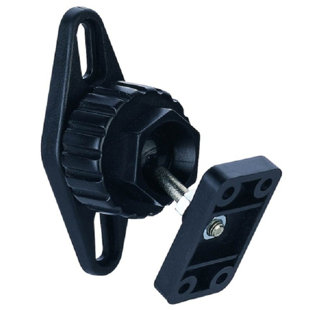 BUY NOW
Electronic Master Dual Speaker wall mount is designed for most speakers and is constructed from heavy-gauge steel for total support and durability, also an innovative locking mechanism.
23) Universal Wall Speaker Mount (Set of 2)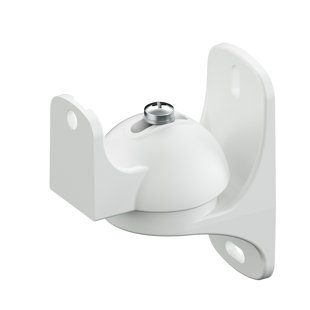 BUY NOW
EAK50W-A is a pair of white speaker wall mounts. The included hardware allows accommodation of most speakers with a keyhole-style mount, or threaded mounting hole. Adjustments for tilt and turn are included to optimize placement and sound quality.
24) Gaskins Bracket Universal Wall Speaker Mount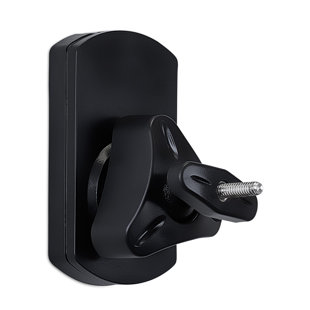 BUY NOW
Now you can match your Sonos Play: 1 and play: 3 speakers with a wall bracket to Symple Stuff on the wall. The speaker wall mount bracket is designed to fit other speakers as well and can support speakers. The complete fittings included you can securely mount a Sonos play as stereo or as surround speakers.
25) Galvan Satellite Universal Wall/Ceiling Speaker Mount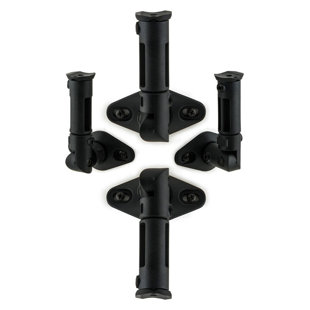 BUY NOW
Simple Stuff! Universal satellite speaker mounts/brackets are a four-pack of our premium, adjustable wall/ceiling speaker mounts. These satellite speaker mounts are great for the home or office, theater surround sound with the maximum weight capacity of 10lbs. With these adjustable speaker mounts, you can adjust the height. Also with a slight push from your fingertips, you can tilt your speaker as well as swivel it to enhance your sound quality in your room. These speaker mounts feature durable, weather-resistant, and they include one and two-hole adapters, making them universal for any small speaker.