1) Window Pane Multimedia Cabinet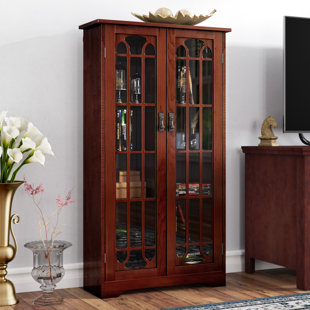 BUY NOW
Perfect for the living room or home office, this expansive multimedia cabinet allows you to organize all your multimedia resources in one elegant place. Available in a curated selection of woodgrain finishes, this charming design is constructed of solid birch wood with veneers.
2) Demarus Multimedia Media Shelves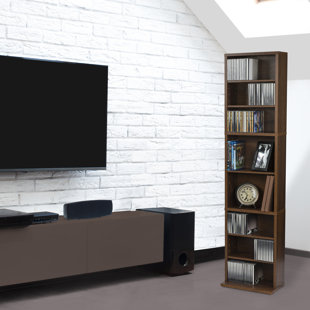 BUY NOW
There's no one better to decide the arrangement of your shelves than—yourself. 6 of the Red Barrel Studio Damarus's 9 are height-adjustable, meaning your media display and storage is customizable to your needs. At 4-and-a-half feet high, you can stow hundreds of CDs, DVDs, Blu-rays, and games, in addition to any other cherished items you want to display. A sleek ebony finish and slender profile are the icing on the cake.
3) Multimedia Media Shelves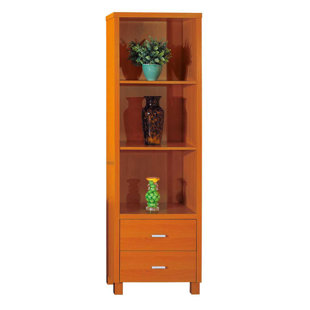 BUY NOW
Looking for Media Shelves to organize your entertainment center? This lovely storage cabinet is the perfect solution! It features three adjustable display shelves and two drawers with square bar handles, providing ample space for your media accessories.
4) Javin Multimedia Storage Rack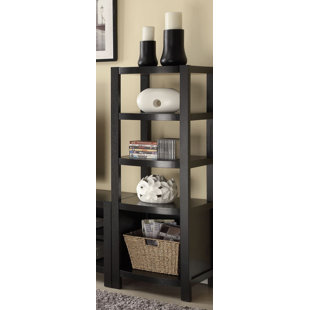 BUY NOW
Use this console as an entertainment wall unit to store your devices enjoy your movie-time.
5) Bellwood Multimedia Dowel Rack Media Storage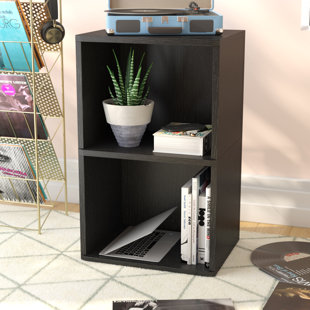 BUY NOW
Clutter wreaking havoc in your home? Don't throw in the towel, that creates more laundry. Pick up this storage rack instead. Crafted from eco-friendly, non-toxic materials, this piece strikes a clean-lined silhouette and boasts a neutral finish that's versatile enough to blend with nearly any color palette. Two shelves provide a place to perch framed family photos, potted plants, or even records for the vinyl collectors out there.
6) Wooden Record Multimedia Shelf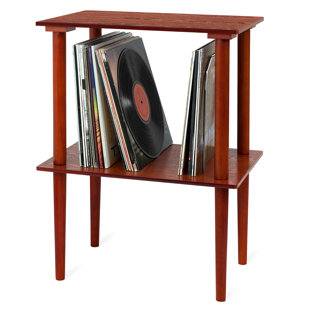 BUY NOW
Create a classic centerpiece for your living room with the media shelf. With its elegant real wood construction, it's the perfect compliment for wooden music centers.
7) Dowel Multimedia Tabletop Storage Rack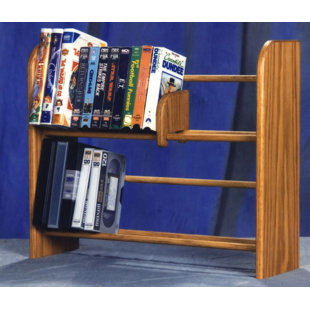 BUY NOW
This rack is truly a fine piece of furniture that will enhance your decor while providing easy access storage. This product looks great as it is solid wood and does not have any screws.
8) VHS Dowel Multimedia Storage Rack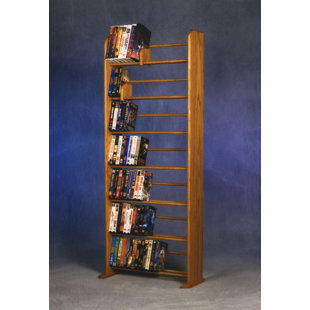 BUY NOW
The design of this multimedia storage rack blends in with any room furnishing and brings out the best of your interior decor. The multimedia storage rack comes in multiple finishes that match perfectly with any personalized home decor.
9) Rotating Multimedia Cube Storage Tower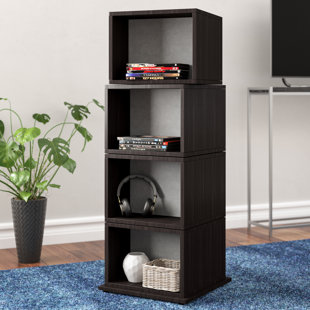 BUY NOW
Crafted of eucalyptus wood in a rich espresso finish, this media tower includes four stacked cube storage compartments with gray backings. Perfect for the den, this unit can hold up to 144 DVDs or 216 CDs – or use it in the playroom to keep toys and games organized.
10) Chet Multimedia Media Shelves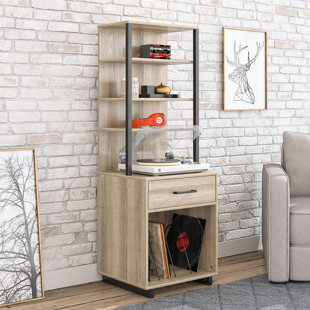 BUY NOW
Add an updated look to your entertainment space with the tall turntable stand. The finish on the laminated particleboard is accented by the black feet and metal accents for a contemporary feel. With 3 shelves, 2 adjustable, you have all the space you need to store books, albums, or decorations. The step-back design offers a deeper middle shelf to place your record player and spacious lower storage, complete with record dividers, for all of your favorite albums.
11) Adjustable Multimedia Wire Rack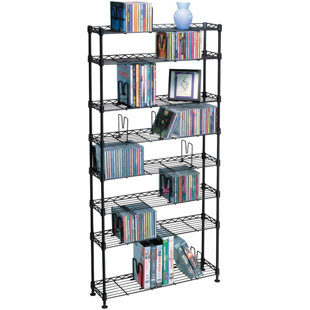 BUY NOW
Keep your media organized and in one place with this eight-tier multimedia wire rack! Crafted of sturdy steel in a black finish to match with any aesthetic, this track strikes a tall, open rectangular silhouette.
12) Media Shelf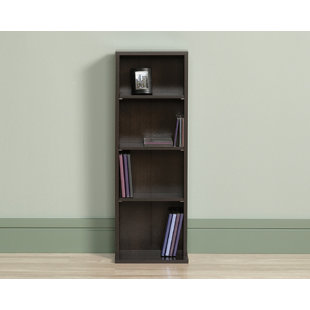 BUY NOW
Simple storage is what you need and that's what you'll get with this multimedia storage tower from the Beginnings collection. It features three adjustable shelves for stacking and storing movies, games, books, and much more. Finished in Cinnamon Cherry, this bookcase will get you organized and look good doing it.
13) Tier Multimedia Media Shelves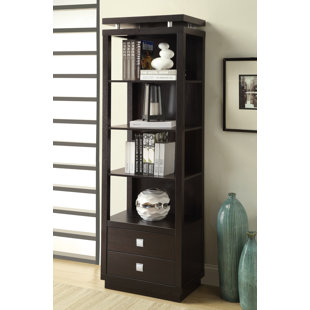 BUY NOW
Keep organized in a home office or living area. Plenty of shelving and drawer space offers room for media and essentials, making this media tower a solid choice. Four tiers make room for displaying books and decor, while two drawers with Euro glides offer smooth, easy access to hidden accessories. Enjoy a dramatic cappuccino finish that offers a bold look. This media tower is a superb complement to entertaining spaces and home offices.
14) Bridge Multimedia Media Shelves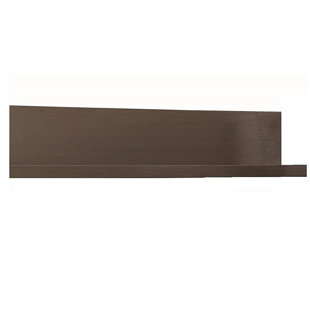 BUY NOW
Complete your modular media cabinet with the inclusion of this bridge, featuring a large shelf with a back panel to showcase your exotic decor items. Constructed from wood and MDF, it is accented in the hue of walnut brown. It will serve the best of its purpose.
15) Wave Multimedia Storage Rack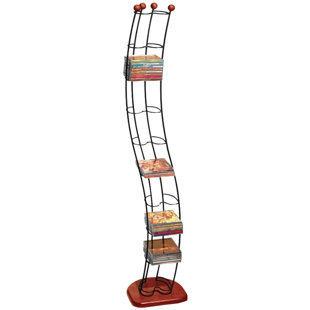 BUY NOW
Keep your CDs at hand and organized with this innovatively-designed CD wave tower. It'll add the finishing touch to any room. The distinctive shape combining heavy gauge steel and wood base, is a statement of its own.
16) 100 CD Multimedia Nestable Wire Rack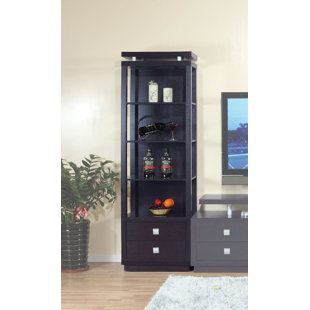 BUY NOW
This Epple Creative Elegant and Modern Design TV Stand Media Tower come with simple construction to create an attractive look and feel at your home; upgrade your home interior décor and taste. This media tower display can meet all your storage needs.
17) Rashid Media Shelf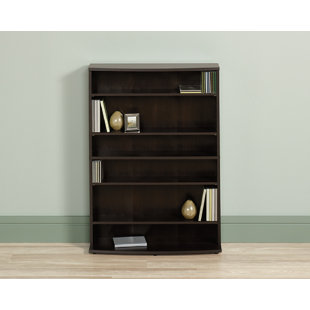 BUY NOW
Never run out of storage space again! Create the versatile storage options your home needs while adding the beautiful style and simplistic design that you want with this multimedia storage tower from the Rashid collection. It features five spacious shelves that are perfect for storing an array of different items like your collection of novels, movies, CDs, video games and so much more! It also makes a great spot to display home décor items like knick-knacks, decorative plants, and photos of your family and friends.
18) Rascon Media Shelf
BUY NOW
It includes six adjustable shelves that can move to different heights to create flexible storage options for items of all shapes and sizes. Its simple beauty and versatile design make it a perfect fit for any room in your home – the entertainment room, the living room, or in your office. It looks good no matter where it stands. Finished in Cinnamon Cherry, this handy storage tower is the solution to all your storage woes.
19) Pinevalley Multimedia Revolving Tower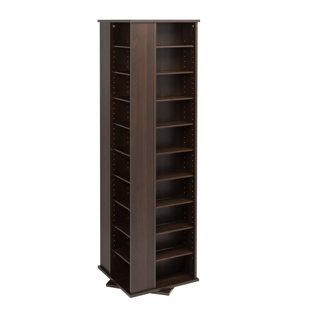 BUY NOW
Accommodate your growing media collection with our 4 – sided spinning tower. With enough space to store over 1040 of your CDs, this unit also spins to give you easy access from all sides. Don't worry about your collection taking up much room: it occupies just over one square foot of floor space. Add, sort and rearrange your media with ease across each side's seven adjustable shelves. Functional and efficient, you'll wonder how you managed without it.
20) 110 CD Multimedia Tabletop Storage Rack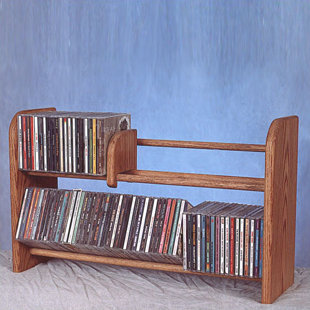 BUY NOW
This rack is truly a fine piece of furniture. It will enhance your decor while providing easy access storage. Solid oak is used for its strength and durability.