1) Leni Manual Recliner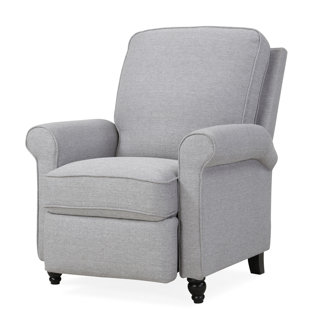 BUY NOW
Every household has a designated remote control holder. Whether in the man cave or living room, this person needs a throne. This reclining armchair is here to help. Crafted from wood, it showcases turned detailing on all four legs, while a dark espresso finish adds statement-making appeal to your seating ensemble. Polyester fiber and foam filling with sinuous springs for added comfort. Simply push back to recline: No levers or buttons required for comfortable long-term sitting, TV viewing, or a relaxed recline.
2) Leonie Manual Recliner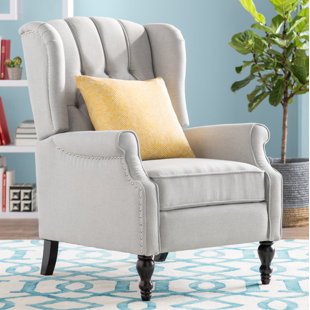 BUY NOW
How can a tried-and-true classic be made better? Just add a reclining function! Poised to become your new favorite piece of furniture, this wingback-style chair combines must-have style with relaxation. Its frame sits atop turned legs and is swathed in polyester blend/leather upholstery accented by diamond tufting, rolled arms, and characteristic "wings." With a push, this design leans back, making the perfect perch for curling up with your latest read or napping the afternoon away.
3) Phillipsburg Manual Recliner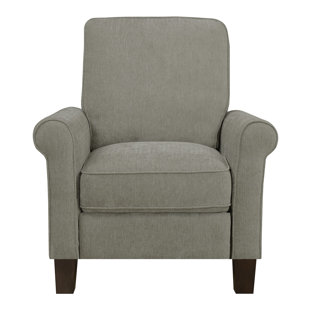 BUY NOW
This chenille recliner is a great mix of traditional styling and contemporary comfort. This collection features a soft, low pile chenille fabric and welted rolled arms, seat, and back.
4) Wingler Massage Manual Recliner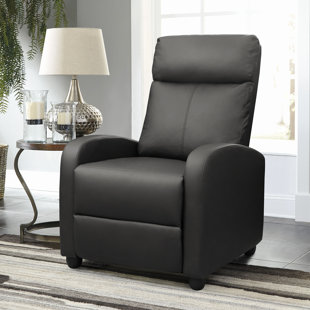 BUY NOW
Living Room Single Sofa Recliner Seat Club Chair Home Theater Seating. This recliner Sofa chair is modern and sophisticated. It is the best choice to unwind and relax your body. And this recliner is perfect for any place, including office, cozy living room, bedroom, rec room, dining establishment, or study. Built on a sturdy frame, made of soft PU leather and high-density foam, the recliner is built to last. No levers or buttons required, simply push back and recline. So you can sit on the recliner, reading a newspaper, book or put on your favorite movie, kick your legs up and relax your body.
5) Sykora Manual Recliner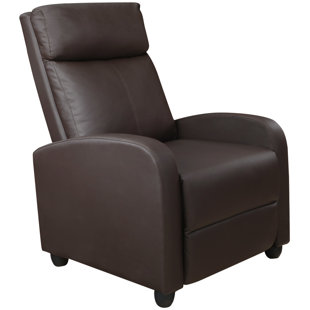 BUY NOW
New Upgrade – Added massage function, two massage points on the backrest, you can control the massage strength and other functions by remote control. The fashionable design of this recliner chair is matched with high-quality PU leather and comfortable high-density thick sponge. The durable wooden frame structure has quality assurance. Adjustable Angle backrest and footrest provide the most comfortable sitting experience when you are working or resting for a long time.
6) Kai Manual Recliner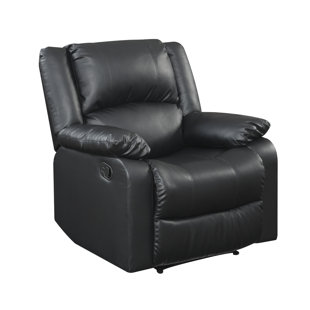 BUY NOW
Whether you like to unwind with a book or a glass of wine, this classic push-back manual recliner lets you lean back and kick your feet up as you relax. Crafted with a solid hardwood frame, this piece is constructed with pocket coils, filled with foam, and wrapped in sleek faux leather fabric. Its neutral-toned upholstery helps it blend easily into most color palettes, while its pillowtop arms give it an inviting look.
7) Krouse Manual Wall Hugger Recliner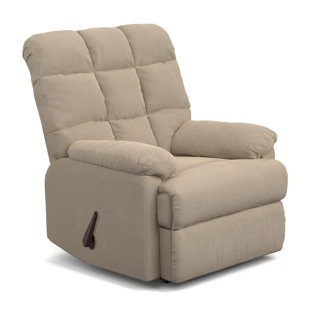 BUY NOW
Update your living room furniture with this recliner. Wall hugger design recliner only needs 4-inches of clearance from the wall to recline and uses less floor space when reclining. Covered in a durable, stain-resistant 100% polyester microfiber. Cushions are filled with high-density foam, polyester fiber, and independently wrapped pocket coil spring system.
8) Lois 21.3″ Power Lift Assist Recliner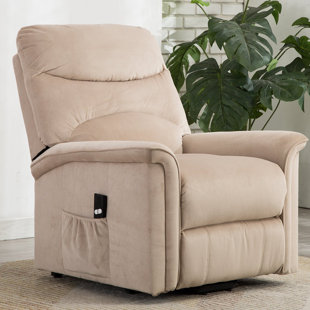 BUY NOW
Ditch your average armchair and switch to this recliner instead: the ultimate in relaxation. Not only does it give you a spot to sit, but it serves up a built-in ottoman and padded arms so you can spread out. Just beware – whether it's a game day or movie night, this perch is sure to be the most coveted in your living room. A power reclining design means minimal effort, while microsuede upholstery is easy to clean.
9) Eudy Manual Swivel Recliner with Ottoman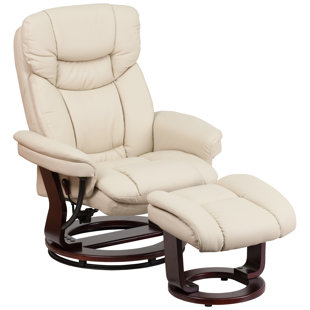 BUY NOW
Relax in comfort with a LeatherSoft recliner chair and ottoman set. Designed to deliver exceptional comfort with long-lasting durability, our swivel recliner is an ultra-comfy, stylish addition to any living room or rec room space. Upholstered in soft LeatherSoft material that combines LeatherSoft and polyurethane for softness and durability, our recliner chairs feature a light beige color that complements any décor style. Ample foam padding in the seat, back, and armrests create an exceptionally plush feel with structured comfort, while the integrated headrest helps support your whole body for complete relaxation.
10) Aairah Ergonomic Massage Leather 32″ Power Recliner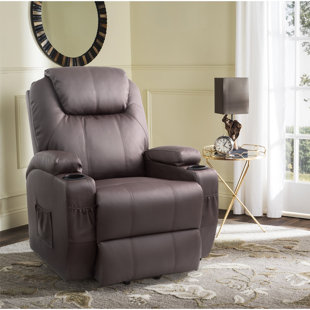 BUY NOW
Two optional intensities for massage.Three occasions for use: Zero gravity, footrest, normal use
11) Laci Manual Recliner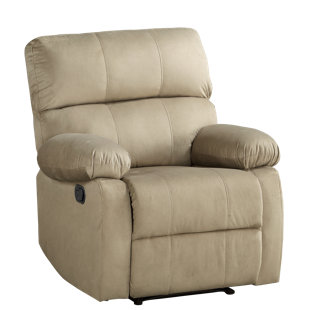 BUY NOW
A new take on a beloved classic, the recliner is the perfect addition to your living or family room thanks to its alluring curves, clean lines, and smooth reclining comfort. With a look that feels at home in any interior, the Laci is tailor-made for entertaining or watching the big game with a reclining function that allows you to achieve your level of relaxation. Upholstered in a durable, easy to clean soft microfiber fabric, it features an elegant and plush channel back tufting and a cozy, padded arm design that ensures all-over comfort and support. Once you ease into the recliner, you will immediately experience lasting comfort and reclining perfection made for the modern home.
12) Dorine Manual Recliner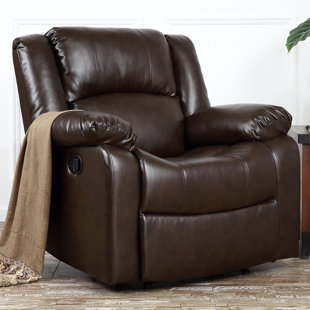 BUY NOW
Treat yourself to a relaxing recliner with this recliner club chair. Featuring beautiful faux leather and a sturdy wooden frame, this piece is both luxurious & durable. The dual-function operation allows you to recline and raise the footrest for ultimate leisure.
13) Ballone Button 19.5″ Manual Recliner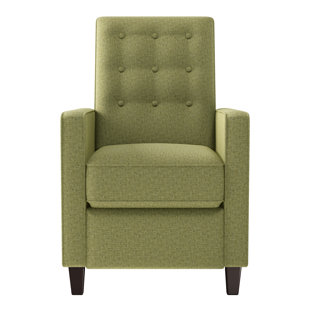 BUY NOW
This reclining chair features squared arms and a button tufted back cushion design in a tweed fabric that is not only comfortable but beautiful as well. Simply push back to recline, no levers or handles required for comfortable long term sitting, TV viewing, or just a relaxed recline. The comfortable soft seat and back support. This update of a classic style will provide the perfect accent to a living room, media room, or master bedroom. Covered in a durable, easy-clean 100% polyester multi speckled tweed-like woven fabric. Imported.
14) Durkee Lift Classic Power Lift Assist Standard Recliner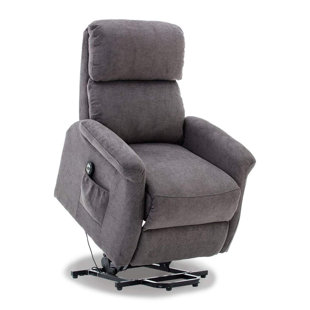 BUY NOW
Bonzy's Remote Power Chair Lift Recliner makes it easy to get up from a chair without the need for another person. The chairs are made to support the entire body for maximum comfort during everyday use. The Reclining motion is very smooth and easy-going, perfect for anyone in need of such a chair. We take our chair very seriously; these chairs have been tested rigorously over and over again to ensure quality and longevity.
15) Sonntag Manual Recliner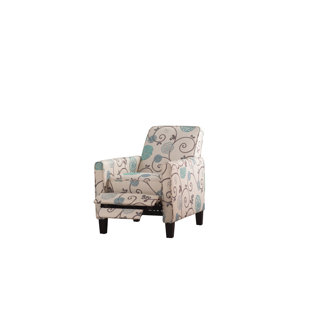 BUY NOW
Having limited space in your living room does not mean you have to settle for inferior furniture. Our charming recliner chair offers impressive comfort while maximizing your living space with its petite design. Featuring piped edged, smooth upholstery, and sleek tapered legs, this recliner brings an air of refinement to any room. With an air of contemporary style, our recliner offers an attractive upgrade for your home, allowing you to easily kick up your feet for a relaxing respite regardless of your space limitation.
16) Allagash Manual Rocker Glider Swivel Recliner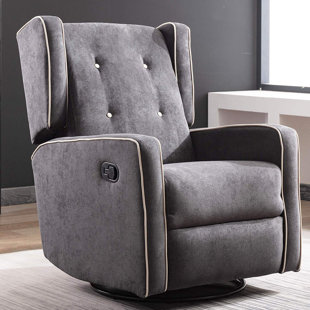 BUY NOW
This manual swivel rocker gliding recliner chair is wrapped in polyester blend upholstery with white buttons and piping for contrast, track arm design, and foam-filled cushion to rest your arms and your body. The perfect pick for nurseries and living areas alike. Enjoy your leisure time of its humanization design and fully relax your body and mood this comfortable recliner chair.
17) Kettering Manual Recliner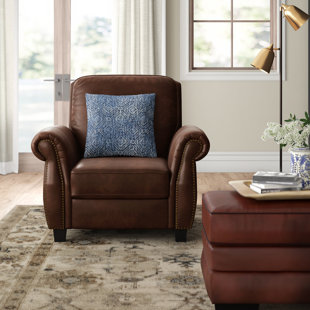 BUY NOW
When it comes to transforming a home, nothing beats pieces that feel personal. And a perennial favorite for finding "your" chair is a recliner, like this one. Perfect for a traditional look, this recliner features a solid birch frame and polyester foam filling for a plush touch. Faux leather upholstery rolled arms with nailhead detailing and block feet lend this piece a classic club recliner look. The two-position recliner operates by pushing back to a 165° angle, so you can settle in for a good book or the big game.
18) Amoah Manual Recliner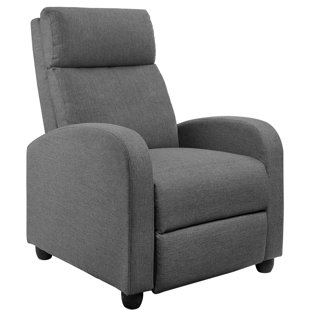 BUY NOW
This Amoah Manual Recliner has comfortable thick seat cushions and wider curved armrests. It has a stable steel frame and Convenient push-back design. It also has rubber feet that can protect your hardwood floor better. It is perfect to be placed in the living room or bedroom.
19) Leverette 18.50′ Manual Recliner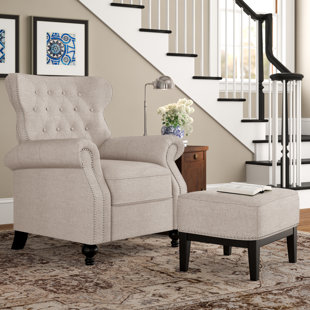 BUY NOW
Soon to be your favorite place to sit, this recliner brings a classic look to a living room ensemble! Crafted from manufactured wood, it stands atop turned bun feet, showcasing a wingback silhouette, rolled arms, and button-tufted details for that traditional aesthetic. Nail trim along with the seat back and arms introduce a hint of edge to this otherwise understated design. To recline, simply push this chair back, and you're ready to relax
20) Medford Manual Swivel Recliner with Ottoman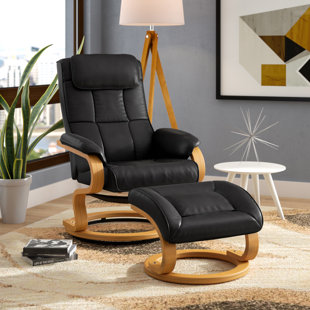 BUY NOW
The multi-functional massage recliner is wrapped in high-quality skin-friendly PU leather, with a high-density sponge filling and solid wood/steel frame structure to ensure safety and comfort. There are eight massage points on the chair, the massage intensity, timing function, and heating function can be controlled by remote control easily. The heating function is located in the backrest and the handrails on both sides, effectively expelling cold and relieving fatigue. There are cup holders on both sides of the armrest that can be used to place Sundries or drink cups.
21) Lift-Assist Standard Power Reclining Full Body Massage Chair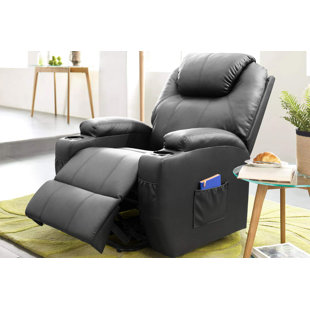 BUY NOW
Upgraded wider headrest and thickly padded armrest with heating function offer you comfier. Thicker foam padding footrest provides a relaxing feeling. The whole recliner chair makes you better to enjoy your favorite TV shows or rest. There are 4 optional parts for massage and 5 rhythms of massage mode. Two massage intensities can be switched to meet your needs. The whole lift recliner chair offers you a zero-gravity experience.
22) Flanigan Power Lift Assist Recliner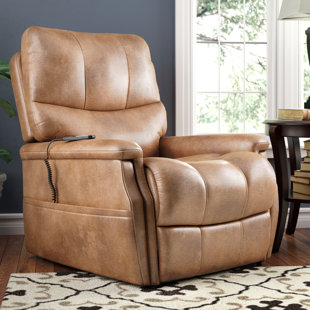 BUY NOW
This chair is the ultimate easy chair. Easy to look at, easy to use, and easy to love. Let's start with the looks, versatile transitional styling, and a lightly distressed leather-look cover in Badlands Saddle makes it perfect for a variety of interiors. The feature gives you extra stability and support when it's time to get up. Two motors for separate foot and back positioning.
23) Dyer Manual Rocker Recliner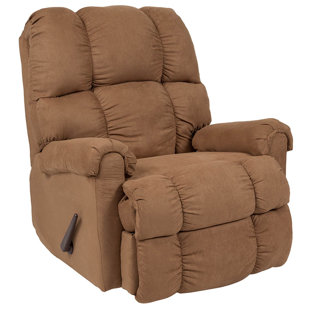 BUY NOW
Immerse yourself in cozy warmth and softness on this plush microfiber upholstered recliner. Reclining furniture offers the best in relaxation for you to kick up your feet to watch TV, work on a laptop, or to just hang out with family and friends. With a quick pull on the lever, you can situate yourself in a comfortable position. Recliners provide good neck and lumbar support, making them the most popular seating choice for everyday use. If you're in the market for a plush rocker recliner, you cannot go wrong with this very attractive contemporary piece.
24) Gertrude Manual Recliner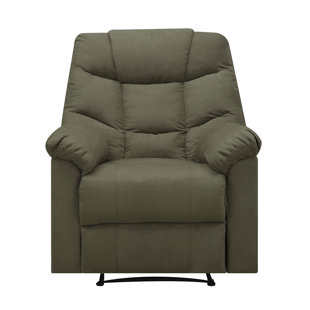 BUY NOW
Relaxation is in reach with this recliner. Update your living room, den, or theater room with this wall-hugging recliner (it only needs 4″ of clearance from the wall to recline). It is constructed from wood and steel, with a coil spring seat and foam filling in the seat and back, and upholstered with stain-resistant, 100% polyester. Convenient side handles for reclining. Assembles in less than 15 minutes with included instructions.
25) Sandra Manual Recliner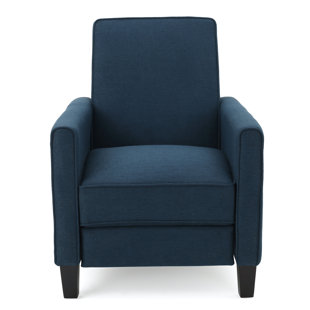 BUY NOW
Want a recliner but not the traditional look? This manual recliner showcases modern style but moonlights as a recliner when you're in need of comfort. Founded atop a manufactured wood base, it features a coil spring and foam seat and is upholstered in a textured 100% polyester fabric. To recline, simply manually push back on the seat and you'll be lounging in no time.