1.Channel Rocking Chair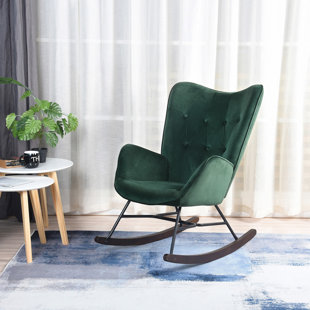 BUY NOW
This rocking chair is foam padded, with the arms at an ergonomically designed height to make it easy to get cozy and stay relaxed. You can seat in front of your house to take a nap, read a book, or drink your coffee seating on this richly padded rocking chair. You can also sit on the balcony to enjoy the view. Made of fabric and well-padded seat, ergonomic backrest, and armrest to sit comfortably, this rocking chair is a perfect choice.
2.Sanders Rocking Chair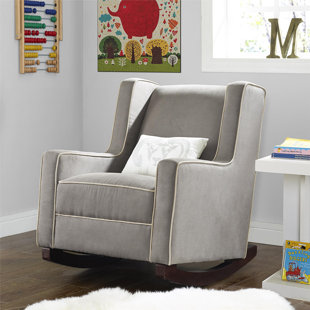 BUY NOW
This rocker chair is the perfect blend of straight lines and traditional 'feels like home' comfort. The beautiful square shape is nicely accented by the complementing two-tone welting, giving the rocker a clean crisp look. The upholstery then adds coziness with its soft-to-the-touch microfiber fabric. The Sanders Rocking Chair is available in three different fabric color options to suit your decor. The durable construction and the solid wood espresso finished rocker feet will easily ensure years of use. Should you wish to prop your feet, the matching Storage Ottoman is available (sold separately).
3.Kamora Rocking Chair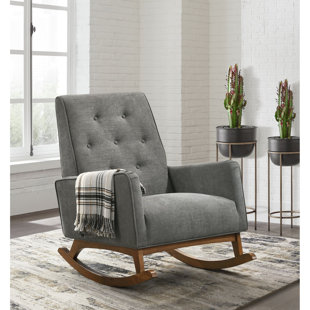 BUY NOW
The rocker is going to look amazing in your home! This rocker can be displayed anywhere, from a living room to a bedroom. The button tufting along the back cushions instantly adds extra flair to this already stylish piece. The warm walnut finish on the gliders pairs beautifully with the transitional color of the fabric. The foam cushion seat will keep you plenty comfy while you curl up with your favorite book.
4.Teacher Rocker Rocking Chair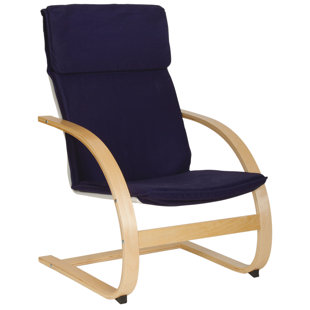 BUY NOW
Designed for teachers to match our Kiddie and Nordic rockers, the Teachers Rocker is the perfect blend of style and functionality for the classroom. Upholstered Seat Cushion Included. Upholstered Seat Cushion Included: Yes. Seating Comfort: Medium.
5.Bender Wingback Rocking Chair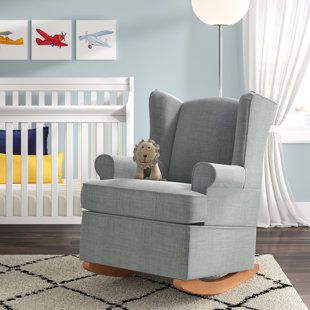 BUY NOW
Whether looking to relax after a long day, work from the comfort of your own home, or get lost in a good read, this rocking chair is a must-have for your living room look. Crafted from solid wood, the base lets you gently rock back and forth for a relaxing experience. Up top, the fabric upholstery boasts a solid color while the distinctive wingback design lends a touch of traditional style to any space.
6.Jadon Rocking Chair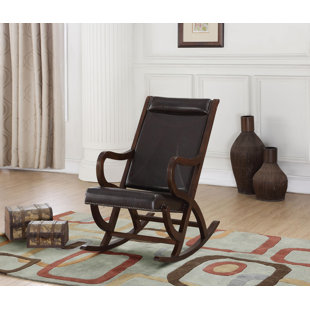 BUY NOW
Constructed from solid wood, the frame of this chair features looped armrests and a tall backrest with a built-in headrest that lends both comfort and support. The upholstery complete with nailhead trim rounds out the design of this chair with a touch of texture, while foam padding provides a supportive seat. With its smooth rocking blades, this chair is perfect to rock yourself to relax in style.
7.Amir Rocking Chair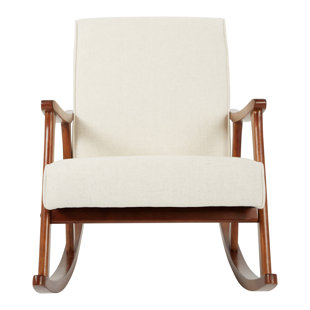 BUY NOW
Add sophistication and a modern aesthetic to your room with this Rocking Chair. Featuring a beautiful contour design, this rocking chair offers a comfortable relaxed feel. Easy care, on-trend fabric completes the look.
8.Mellinger Rocking Chair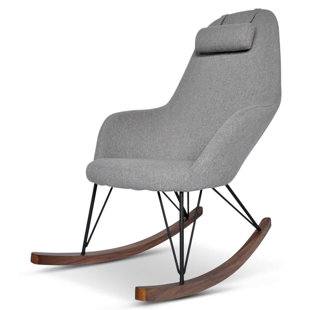 BUY NOW
Whether placed in a nursery for rocking a little one to sleep or simply rounding out your living room seating ensemble, this rocking chair is always a relaxing pick. Crafted from metal and wood, its frame takes on a curved silhouette and is founded atop a pair of rounded legs. Fabric upholstery ties it all together, adding comfort and keeping it versatile with a neutral solid hue. Minimal assembly required.
9.Valley Leatherette Arm Rocking Chair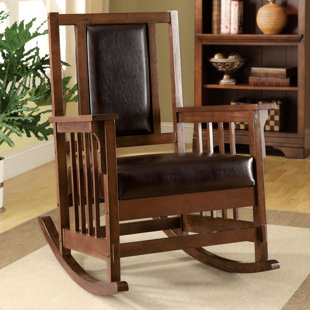 BUY NOW
This rocking chair has a classic design that gives a high utility value. It can be placed effortlessly in any place in your home according to your convenience, which complements best with the decor. The Valley Leatherette Arm Chair by Hokku Designs is a mix of manufactured wood, enabling years of reliable use. It has an espresso finish that gives a polished look. This rocking chair features cushion seating, comfortable back, and wooden slatted armrest. The seat and the mid-portion of the back are cushioned with soft leatherette padding.
10.Hanlon Rocking Chair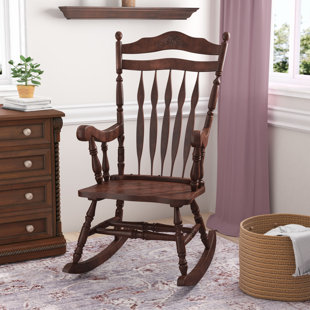 BUY NOW
A rocking chair like this is a great option for an iconic seat in any room. Crafted from solid wood, this piece sports a rich dark walnut finish for a warm look. Its slatted back contributes to its open feel and provides plenty of ventilation, while it's carved detailing and turned accents complete the design with another dose of classic character.
11.Cinthia Rocking Chair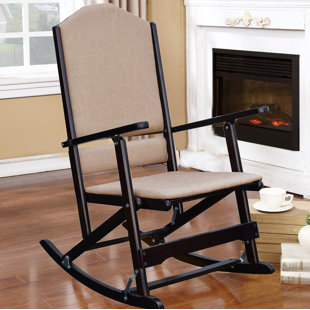 BUY NOW
The solid wood folding rocking chair is designed for the space-saving conscious buyer. The solid construction is held together with durable exposed hardware to add a touch of appeal to the piece. The rocker is available in a natural wood or dark espresso finish with coordinating durable fabrics that will work in a covered porch, den, living room or nursery. This rocking chair comes fully assembled in its box. It is designed for small spaces and can be used as alternative seating to relax in.
12.Berg Rocking Chair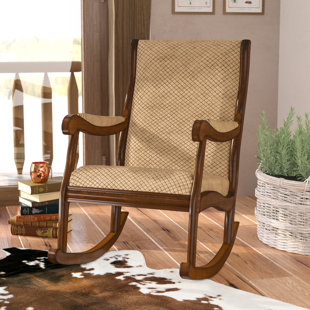 BUY NOW
Crafted from manufactured wood and awash in an antique oak finish, it's a warm, welcoming addition to any living area. This rocking chair's beige polyester upholstery, complete with lovely diamond details, rounds out the design with a touch of texture, while foam padding provides a supportive seat. This rocker prefers indoor spaces, making the porch off-limits if you're looking to keep this piece in excellent condition.
13.Dahlonega Slat Rocking Chair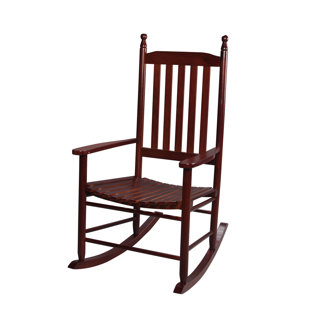 BUY NOW
For those about to rock, we salute you. Crafted from solid wood with a slatted design, this classic is made for country cottages and charming farmhouses alike. Measuring 44" H x 23.5" W x 33" D, it's the perfect size to pop in the corner of the den or master suite. Add your favorite cushion for extra comfort, or pile on pillows. Make sure to keep it inside – this piece isn't weather resistant.
14.Mililani Rocking Chair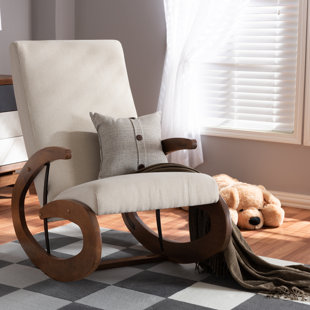 BUY NOW
Rock your little one to sleep in style with the Mililani Rocking Chair. Designed with the utmost comfort in mind, It features a tall back and wide seat filled with high-density foam. Large spiral-shaped rockers provide smooth motion and add bold visual interest to your nursery.
15.Danvers Rocking Chair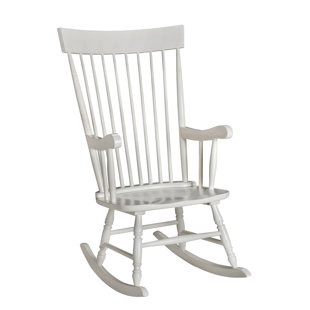 BUY NOW
This modern take on the traditional Rocking Chair is sure to add beauty to every room in the home. Perfect as a living room chair, or nursery chair, this durable chair is sure to be a hit in every home.
16.McDermott Rocking Chair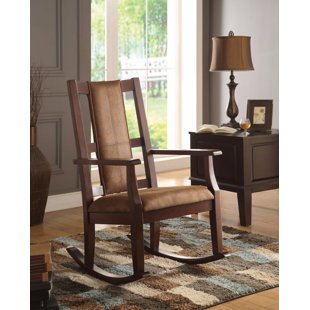 BUY NOW
This beautiful wooden chair will be the perfect addition to your living room, sunroom or deck. This graceful rocking chair features a padded seat and tall chair back for extra comfort. The smooth rocking motion and sturdy durable construction ensure that you'll be able to relax for years to come.
17.Starkweather Rocking Chair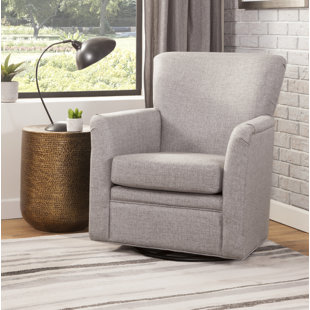 BUY NOW
This transitional swivel rocker chair has durable mechanisms to ensure safe, quiet movements. It is perfect for the nursery or to comfortably sit back and watch the big game. Relax and enjoy the 360 degrees to always have the best view in the house.
18.Mahnomen Rocking Chair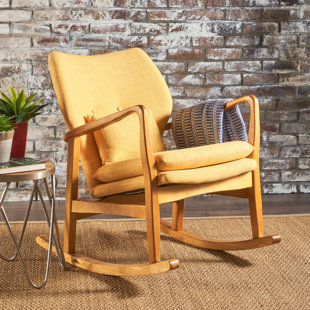 BUY NOW
Relax in style with this mid-century rocking chair with a French-inspired design. Combining ultimate comfort with impeccable style, this chair features high-quality fabric atop a birch wood construction. This piece will last for years and years, becoming a treasured part of your house.
19.Rocking Chair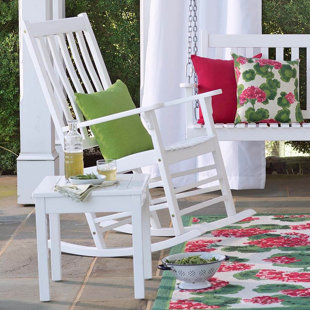 BUY NOW
Relax your cares away in the most attractive and comfortable slatted furniture yet! Made from high-quality, FSC-certified eucalyptus grandis, this good-looking collection is durable, comfortable, and earth-friendly. A rich, multi-step finish offers gorgeous style and long-lasting durability.
20.Overcash Rocking Chair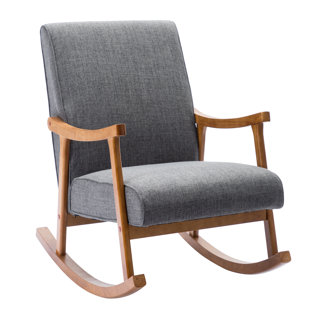 BUY NOW
Rocking accent chair – a modern take on a classic design -Meet, the mid-century rocking chair, and the chic cousin of the good of rocking chair. Even if space is at a premium, you can still be delighting in the hypnotic relaxation a modern rocking chair offers as the is effortless to incorporate into any corner with its modest size. Soft and durable hemp fabric upholstery – The rocking accent chair makes a reliable companion too.
21.Carrizal Rocking Chair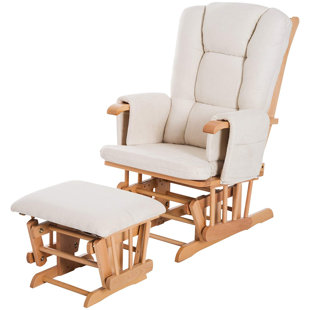 BUY NOW
Relax in style and comfort with this overstuffed rocking recliner and ottoman footrest.
22.McNeel Rocking Chair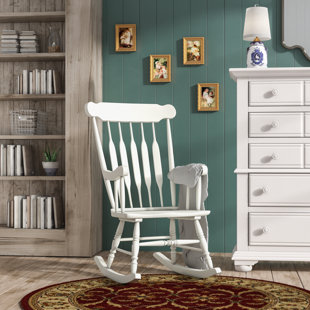 BUY NOW
Rock as you read or relax with this classic rocking chair, perfect for sprucing up any unused corner in your home. Crafted from solid rubberwood, this piece features a spindle back, open sides, and curved armrests for an open and airy look. Turned accents along the base bring out this design's traditional side, while its neutral finish helps it blend with a variety of color palettes and aesthetics. Assembly is required.
23.Rocking Chair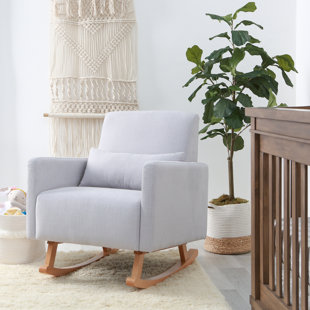 BUY NOW
The Milo Rocking Chair is a clean, simple piece that brings contemporary sophistication to any space. Soft linen upholstery surrounds a sturdy, compact structure and supportive cushioning. This versatile piece can become the perfect relaxing escape for your living room, bedroom, or nursery.
24.Welton Rocking Chair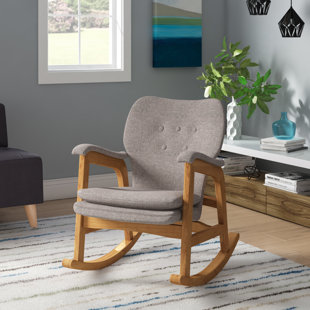 BUY NOW
This rocking chair is a great addition to any room in your home, especially a bedroom. Complete with a buttoned back, the extra cushioned seat for comfort, and covered armrests for the ultimate in relaxation. With a mid-century design to complement any décor, this rocking chair is sure to please.
25.Estella Rocking Chair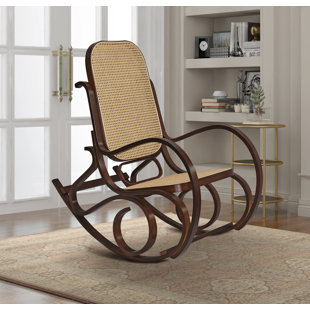 BUY NOW
Unique design and sturdy craftsmanship with solid birch wood framing in espresso, natural or walnut finish and beautiful coordination with natural woven cane seat and back. Place it in the corner or anywhere in your favorite room and rock away in comfort…perfect for relaxing, reading, conversing, watching television…or even snoozing. A true functional conversation piece in your living room, den, library, bedroom, office, or sunroom.