1) 3 Seats Leather Home Theater Sofa
BUY NOW
Experience the ultimate comfort in your very own living room with Dazone 3 Seat Leather Home Theater Sofa. With high-quality material and sleek ergonomic design, this set makes a perfect addition to your home. Turn your family room or extra space into your dream home theater as the only thing you need to bring to luxurious-feeling movie nights are your favorite homemade popcorn and drinks.
2) Mcghee Leather Home Theater Individual Seat BUY NOW
Our fully-padded reclining sofa applies a strong composite wood frame, naturally soft rayon fibers, water-resistant, and easy-to-clean PU & PVC leather. The solid structure can easily bear up to 120 kg/265 lb. Featuring PU & PVC leather covering, the cleaning and maintenance will be a piece of cake. Marshmallow-ish softness seat, armrest, backrest, and footrest reduce fatigue after a long day at work, providing you with the ultimate seating experience.
3) Home Theater Row Seating (Row of 3)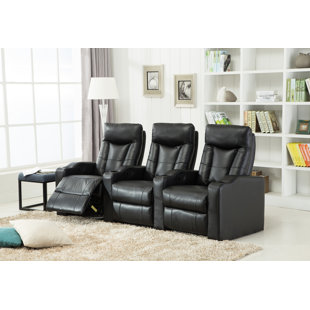 BUY NOW
Sit down and relax in this comfy 3 piece reclining theater set. Extra cup holders for your favorite drinks. Stretching your body on the recliner. This is the perfect setting for your family.
4) Skiba Home Theater Sofa (Row of 4)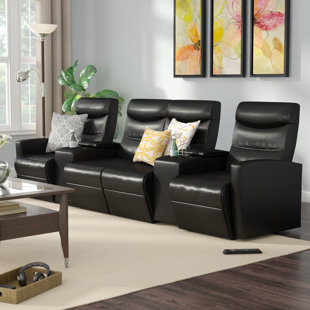 BUY NOW
The unique design and superior comfort of this Home Theater Recliner with Storage Consoles, 4-Seat makes it a great addition to any contemporary living room. This recliner features 2 storage consoles with 2 cup holders where you can rest your drink as you watch TV. Its integrated headrests provide additional comfort.
5) Leather Home Theater Loveseat (Row of 2)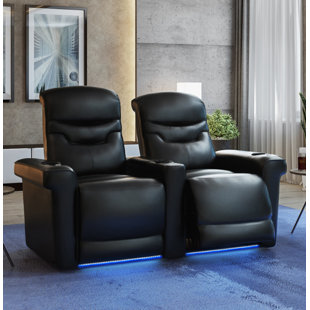 BUY NOW
This theatre seat features all the great design and construction skills of the amazing team. This collection is uniquely identified by the l-shaped armrests that occur on the outside arms of any row. The tall seat back and sleek chaise styled footrest center this profile and give this luxurious model a winning transitional style with all the comfort trappings you would expect from a theatre seat.
6) 3-Seat Reclining Home Theater Loveseat BUY NOW
Contemporary theater seating. 2 Recliners with recessed levers. Middle recliner with pull handle. Integrated headrest. Contrasting white stitching. Straight arm storage console with 2 cup holders. Leathersoft is leather and polyurethane for added softness and durability. Spot clean with a damp cloth. CA117 fire retardant foam.
7) Regal HR Series Curved Home Theater Recliner (Row of 4)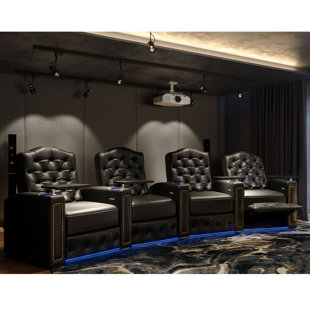 BUY NOW
Designed with a plush tufted seat back and footrest as well as an elegant nailhead trim throughout, this row seating is going to be your new favorite place to relax. This recliner includes all the desirable new modern features in furniture like ambient lighting in the cup holders and under the seating. Lighting is turned on/off from the same power control on the arm and there is a convenient USB charger there too.
8) Collegiate Home Theater Recliner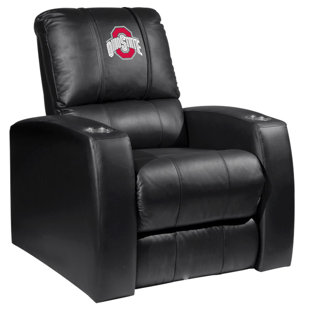 BUY NOW
This has a top grain leather in all touch areas with patented interchangeable logo system. It provides continuous head-to-toe support when reclined and includes 2 stainless steel cup holders. This also has a removable back for easier delivery and moving from room to room.
9) Home Theater Individual Seating BUY NOW
Enjoy your favorite TV shows from this comfortable Mainstays Home Theater Recliner. For added comfort, it features a heavy-duty steel mechanism and foams seating. The massage recliner features sewn-in seat and decoratively-stitched back cushions that blend in easily with any room setting. Featuring a 4-point massage system and 5 modes of vibrating massage, it is ideal for anxiety and tiredness relief, especially suitable for those working for long sessions.
10) Leather Home Theater Sofa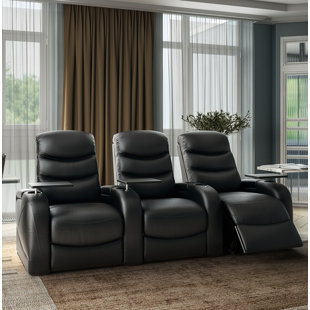 BUY NOW
This luxury home theatre seat is a new level of comfort and design that brings to the forefront the full range of features and benefits available in furniture today. Storage, lights, accessories, and supreme comfort all found together in the latest introduction from the powerhouse design team.
11) Keats Home Theater Sectional BUY NOW
The Keats is Palliser's number one selling reclining collection, showcasing what Palliser is known for: comfort, quality, and design. It's timeless curves and soft silhouette are designed for comfort and style. The dual back cushions and full pad over chaise styling allows you to prop your feet up for ultimate relaxation in the recline position. This Keats features the option of power activation in a brushed metallic finish or a manual outside handle that enables personalized comfort.
12) Showtime Home Theater Individual Seating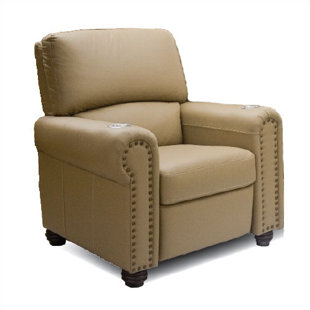 BUY NOW
Create a home theater and watch movies in comfort and style with the Showtime Home Theater Individual Seating. This premium recliner's frame is built from kiln-dried hardwood and supported with multi-layered heavy duty spring supports. Intricately placed exposed nailheads will add a traditional style to your home theater setting.
13) NHL Power Recliner Home Theater Individual Seating BUY NOW
Watch your favorite team or play your favorite games while enjoying this comfortable power theater recliner. Officially Licensed. The chair is made with premium faux leather and has pocket spring coil seating for extra comfort. The team logo is embroidered on the headrest. The chair is decked out with a smooth power mechanism, a USB charging station, and cup holders in both arms.
14) Alliser Home Theater Loveseat
BUY NOW
Comfort and luxury abound in the Alliser collection. Part of the Moving Your Way program, these pieces feature a variety of power and recline options, allowing you to customize your pieces for your ideal experience. They fully recline for added versatility and are equally at home in a home office or home theater. Tight back and seat cushions make for easy upkeep while classic track arms frame the pieces in style.
15) Home Theater Row Seating (Set of 3) Relax and enjoy your favorite book or movie while reclined in this comfortable leather power recliner. This chair features USB/Power outlet inside right arm storage, USB lighting power button, built-in cup holders, and arm console with a convenient tray table that can be stored in the arm when not used. Grab a bowl of popcorn and create a custom cinema experience at home with this theater recliners.
16) Kid's Reclining Home Theater Loveseat (Row of 2) BUY NOW
Kids will now have their designated seating in the theater room with this stylish and comfortable recliner set! Create multiple rows in your daycare facility, preschool, or in the home. The recliner features a plush headrest with an outer pillow for great lumbar support and soft LeatherSoft upholstery. The cup holder in the arm and console provide an easy to reach location to rest their drink during their favorite show or while reading a book.
17) Power Leather Home Theater Row of 2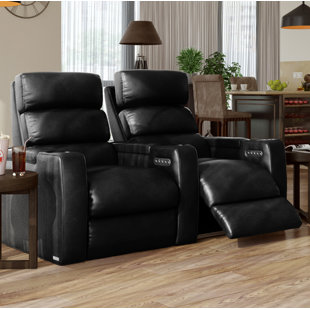 BUY NOW
This collection is offered with a motorized headrest and power recline. The full range of features delivers a comfortable experience that is second to none. This collection includes a triple split seatback that is densely packed with a high resiliency foam core. Laying back in this luxury recliner is going to become your favorite thing to do quickly.
18) Roxie Home Theater Seating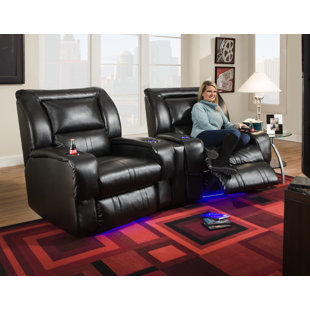 BUY NOW
Sleek and elegant, the Roxie home theater recliner fits well among today's lifestyle room settings. Padded-track design element begins midway up one arm then continues around to frame the bustle back cushions, then returns down the opposite arm. The Roxie would stand regally alone or more dramatically in rows. Be sure to note the seven color capable led system in both cup holders as well as floor illumination.
19) St. Helena Home Theater Row Seating (Row of 3)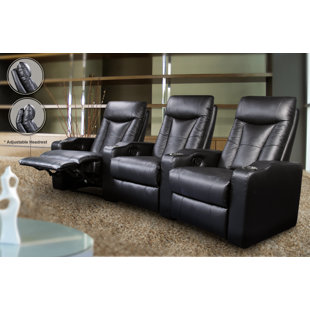 BUY NOW
This has a Sleek track arm with chrome cup holders built-in. The upholstery material used is Faux leather that can be wiped with a damp cloth and has a weight capacity of 1125 lb.
20) Podrick Home Theater Loveseat BUY NOW
Relax in classic style with the Podrick collection. These pieces feature lofty, tight back and seat cushions for easy upkeep and will keep their shape over time. Multiple recline options mean you can select your piece for your own ideal experience. Padded arms only add to the feeling of comfort embodied by the Podrick collection.
21) Seismic Series Modular Center Console Home Theater Sectional BUY NOW
Complement your Ebern Designs set with the elegant and functional Theater Seating by Lippert Components. You will love the style and elegance of the luxurious PolyHyde upholstery and fabrics. The Seismic Theater Searing Collection features RV furniture with heated seats, massage, LED lighting, and power reclining. Sold as modular pieces so you can mix and match to create the seating combination you need.
22) Boston Red Sox Home Theater Individual Seating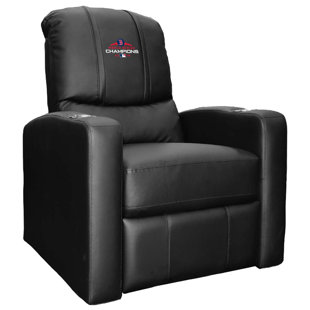 BUY NOW
The Boston Red Sox Home Theater Individual Seating will allow you to watch every game in ultimate fan comfort! It features synthetic leather and manual recline mechanism with sleek lines and a compact footprint. Get thirsty watching the game? This stealth recliner has you covered with two cup holders! Best of all the logo zips on and off of the chair for endless customization options.
23) Manual Luxury Rocker Recline Home Theater Row Seating (Row of 4) BUY NOW
Why head out to the local theater when you can have a cinematic experience right at home? Pop some corn and kick back with a few friends atop this row of four rocker recliners. Crafted from metal, its contemporary frame features arm and headrests that keep you cozy for the full film. To tie it all together, you'll find coil spring and foam padding with black leather upholstery and stitched details wrapping around each seat.
24) Caffrey 5 Piece Leather Home Theater Sofa BUY NOW
Your favorite movie is even better when you're reclining in the comfort of this home theater combination. It features two power recliners for maximum comfort, a power reclining armless chair, and two storage consoles for storing remotes and keeping beverages close at hand.
25) Sloane Manual Reclining Home Theater Sofa (Row of 3) BUY NOW
With plump cushioning and convenient features, the Sloane will quickly become your favorite place to sit. Timeless and versatile, the Sloane's simple profile will fit easily into any home's recreation space. The deep, blown fiber back cushions is divided into two panels for luxurious comfort, the lower panel for lumbar support and the upper panel for upper back support, both allowing you to sink in and relax.