1) Cash Etagere Bookcase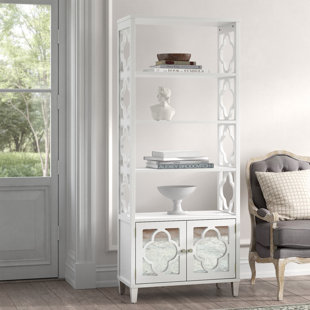 BUY NOW
Do you keep looking for the perfect place to put that sculpture you picked up at the antique store? Check out this chic etagere bookcase. It has four shelves perfect for trinkets, decor, and, of course, your favorite books.
2) Rhoden Standard Bookcase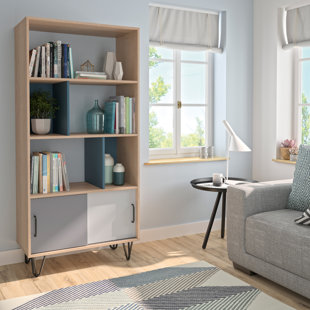 BUY NOW
The bookcase brings mid-20th-century vintage style into your 21st century home or office. The bookcase is a multi-colored unit, in shades of gray with a teal blue accent, and has black door handles and black wire feet. it is built from top-grade MDF boards and is joined with heavy-duty steel hardware, ensuring it will remain sturdy, with strong shelves that won't sag or split under the weight of books.
3) Cavender Modern Storage Standard Bookcase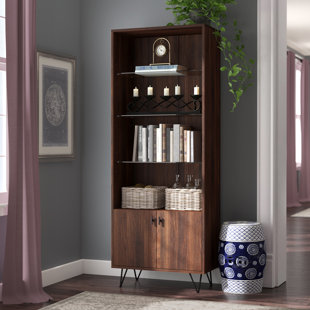 BUY NOW
Try something sharp and functional that's still affordable like this mid-century inspired bookcase. Hairpin legs elevate the rectangular frame that features both open and closed storage, while also adding a sophisticated flair to the unit. This adjustable glass shelves easily make this piece a great display cabinet or office hutch. Modern and masculine this mixed material storage shelf will bring a smart edge to your home.
4) `Whittaker Standard Bookcase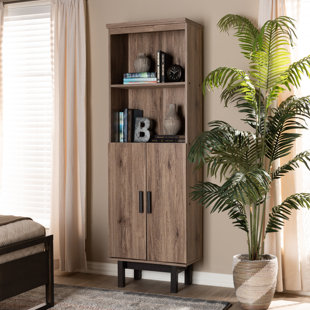 BUY NOW
MDF wood bookcase is fitted with two open shelves that provide space for your favorite books and knick-knacks.
5) Caldwell Ladder Bookcase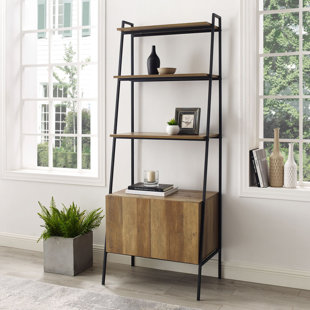 BUY NOW
From displaying a potted plant or framed photo to framing a TV stand or desk, this versatile ladder bookcase gives you room to showcase the things you love. Crafted from engineered wood, it features an open black metal frame for a touch of industrial style and a rustic finish that goes perfectly with the traditional and cottage-style decor.
6) Fenimore Storage Book Display Standard Bookcase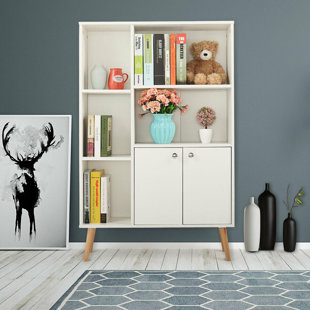 BUY NOW
This item is designed in a simple and classic design, fit with most style of decorations, you can keep your books, papers, files, pens, and other items.
7) Collan Barrister Bookcase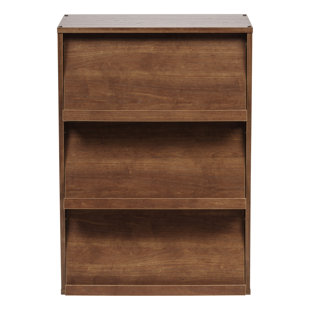 BUY NOW
Sleek style and ease of use come together in this pocket door shelf. Standing 33 inches tall and 23.25 inches wide, these units are perfectly sized for individual use or stacking two vertically using the included stacking and wall mount hardware.
8) St. Nicholas Standard Bookcase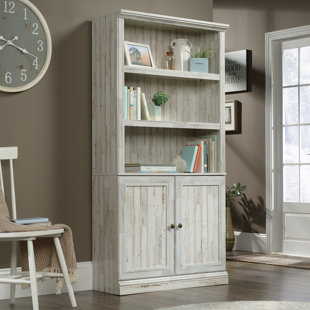 BUY NOW
Three adjustable shelves for flexible storage options. Hidden storage behind doors helps to conceal the clutter. Quick and easy assembly with patented slide-on moldings to save you time. Detailed instruction book for easy assembly.
9) Kalup Wide Standard Bookcase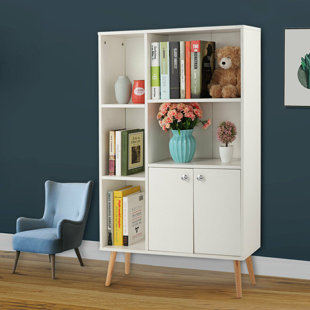 BUY NOW
Fashionable and concise design with the color white You can keep your books, papers, files, pens, and other items Providing big storage for you to save your room space
10) Strauss Cube Unit Standard Bookcase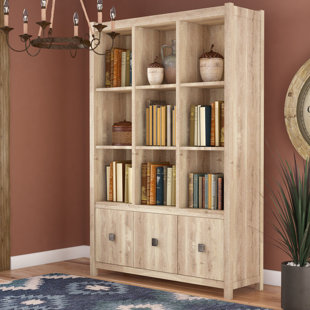 BUY NOW
Corral clutter in the entryway or organize the office in understated style with this clean-lined cube unit bookcase. Nine open cubbies provide a spot to show off framed photos, books, or a stack of supplies, while three one-door cabinets down below offer concealed storage for odds and end's you'd prefer to tuck away. Made in the USA from manufactured wood, this piece strikes a sizable silhouette.
11) Rainhard Standard Bookcase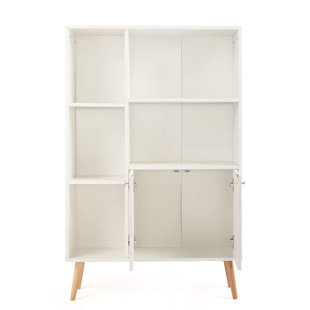 BUY NOW
This asymmetrical bookcase provides plenty of space for you to organize books and display family photos and fun vases, all in a contemporary style. It's crafted from a blend of solid and manufactured wood and finished in a crisp white hue that lets colorful decor stand out.
12) Walworth Standard Bookcase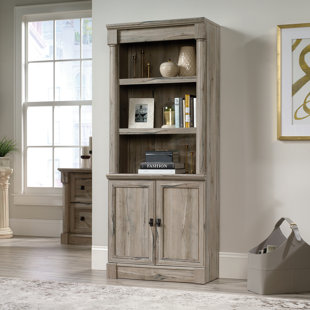 BUY NOW
Put a pop of personality into any arrangement with this versatile bookcase, featuring three open shelves that let you show off framed photos, artful accents, your favorite novels, and any other items that make you smile. Two cabinet doors below open to reveal concealed storage space, so you can tuck odds and ends out of sight.
13) Cardoso Standard Bookcase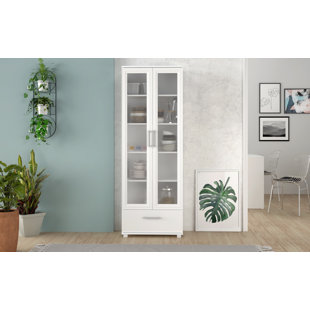 BUY NOW
Keep your collection of books stowed away in the den or organize serving essentials for your next dining room dinner party with this standard bookcase. Founded atop four block feet, its clean-lined frame is crafted from micro-density particleboard and features a neutral solid finish.
14) Cotten Cube Bookcase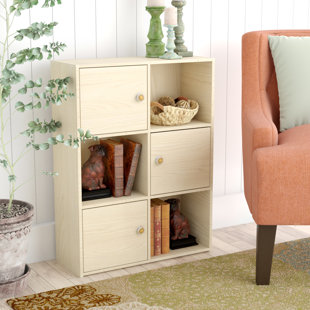 BUY NOW
Bookcases aren't just for holding, well, books! Though they make ideal homes for your paperbacks, they're also perfect for staging framed family photos, keeping baskets filled with accessories, and putting your potted plants on display.
15) Posner Standard Bookcase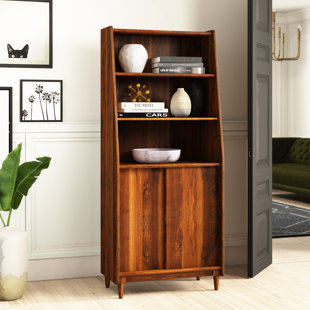 BUY NOW
Bring organizational appeal – and a helping of modern style – home with the help of this must-have bookcase.
16) Pinellas Tall Standard Bookcase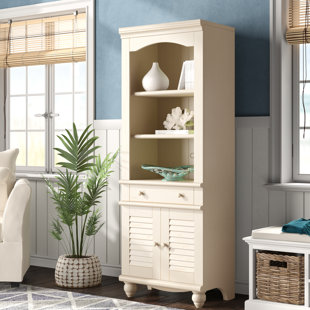 BUY NOW
Add a touch of classic style to any space in your home with this elegant Pinellas Tall Standard Bookcase. Measuring at 72" tall, this design provides ample space for your belongings.
17) Gallager Standard Bookcase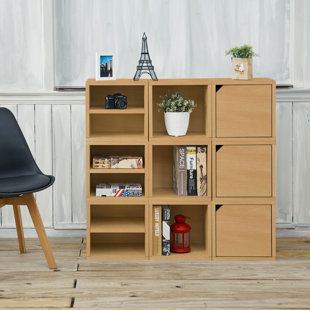 BUY NOW
The Cube Unit Bookcase builds on the success of its predecessors bringing together the design and product you love. Configured from 3 open cube, 3 cubes with shelf, and 3 cubes with the door. Connect them with easy align pins.
18) Clintonville Standard Bookcase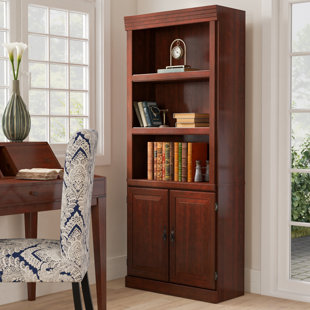 BUY NOW
Still, haven't gotten around to organizing that pile of paperbacks in storage? This handsome bookcase gives you all the incentive you need. Three cherry-finished shelves provide space for your favorite novels while a pair of double doors offer concealed storage for photo albums, file folders, and more.
19) Farland Standard Bookcase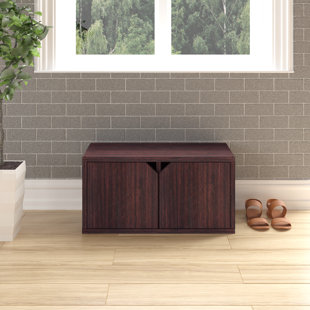 BUY NOW
The only limit to what you can create with this beautiful 2-door modular storage cabinet is your imagination.
20) Dover Standard Bookcase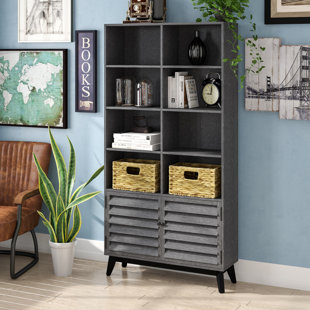 BUY NOW
Too many books and not enough space to store them? That's every bookworm's dilemma, but don't worry: this bookcase is here to help. Crafted from manufactured wood, this piece features four open shelves, perfect for displaying some well-thumbed novels and decorative favorites, while the two louvered doors open to reveal storage space for any loose odds and ends.
21) Eaker Cube Bookcase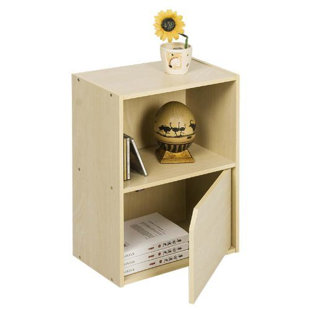 BUY NOW
Dear clutter: I think it's time we talked. With the help of this cube unit bookcase, we won't be seeing so much of each other from now on! Constructed from laminated particle Wipe clean with a clean damped cloth, avoid using the harsh chemical board in a light beechwood finish, this design strikes a clean-lined rectangular silhouette.
22) Cube Step Bookcase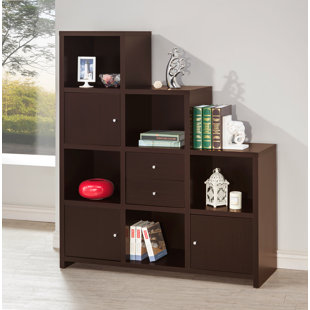 BUY NOW
Materials: Hollow board, melamine paper, medium-density fibreboard, and particleboard.
23) Amityville Library Bookcase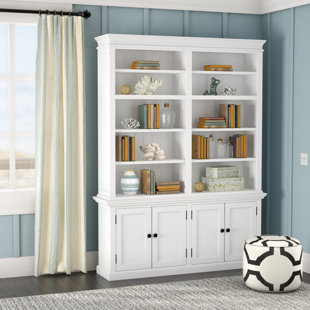 BUY NOW
Hutch Unit for all your storage needs. It comes in three different sizes, all with adjustable shelving. Attractive wainscoting provides a subtle backdrop to the upper open shelving unit. Base units feature shaker style doors with antique brass hardware.
24) Adriane Step Bookcase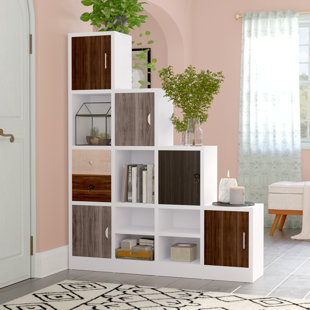 BUY NOW
Step up the style of your space with this distinctive bookcase. Borrowing its design from a staircase, this clean-lined piece features five cabinets (each with a different knob and woodgrain door finish), two drawers, and six open cubbies that provide a place to display framed photos, potted plants, and a few of your favorite books.
25) ConCo Standard Bookcase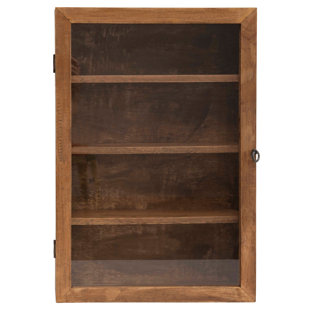 BUY NOW
Display a collection of items, small books, or trophies inside this mango wood display case. The glass front will allow the contents to be seen while protecting them from dust and curious onlookers. It can even be used in the kitchen to displaying a collection of teacups or even holding spices.